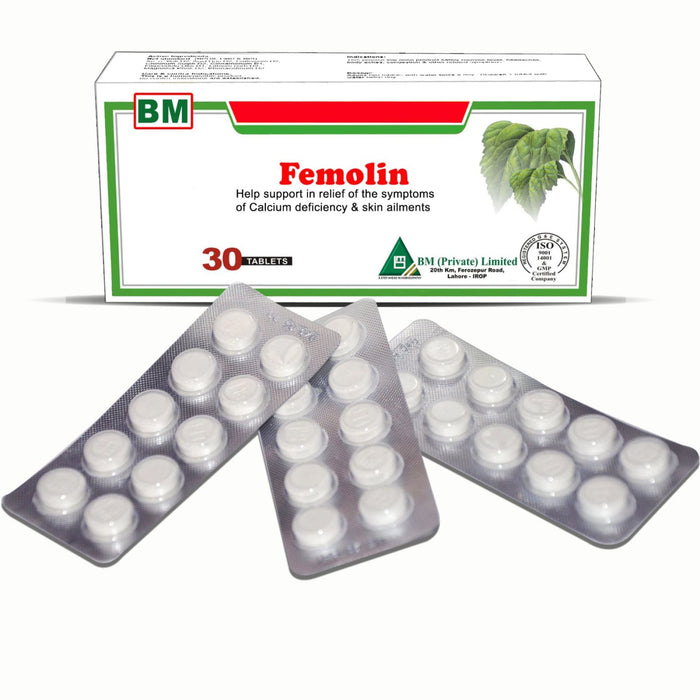 All Natural Femolin Tablets for Painful Period, 30 tablets
Sale
Sale
Original price
$38.99
-
Original price
$38.99
Painful Period Supplement
Natural Remedy for Irregular Menstruation
Use for Painful Bleeding, Heavy or Insufficient Flow,
Cramps, & More - Take With Water - Risk-Free Purchase
☑️Natural Flow: Helps to resolve issues related to irregular menstruation in females. It helps to provide a balanced hormone level.
 
☑️ Safe & Effective Natural Supplement: This homeopathic supplement relies on natural ingredients to provide your body with the resources it needs. Helps fight such symptoms as painful periods, heavy or insufficient flow, cramps, & more.
 
☑️ Drink With Water & Go: Take one pellet at a time, three times per day, for effective support. Provides the minerals you need to fight your menstruation symptoms.
 
☑️ 100% Trusted: Rest at ease. Completely safe for all female members with no interactions with other medications.
 
☑️ Quality You Can Count On: Try our products! If you don't get the results you want, we can help you find a formula that works for you Dedicated to meeting your health and wellness needs since 2007—hassle-free customer service.
Femolin Supplement Natural Remedy
Do You Suffer From Irregular Menstruation Cycles?
Menstruation cycles are typical for women. However, what should you do when you have an irregular cycle? This could consist of painful bleeding, cramps, heavy/insufficient bleeding, & more. Merely hoping for your body to normalize is not a good tactic. You want a solution that gets you feeling better. It's time to take measures into your own hands.
Do You Have These Symptoms?
 
If you are in the reproductive stage of life, you have likely experienced irregular menstrual cycles. Studies show that at least 70% of women experience complicated processes throughout their life. This can include grave/lack of bleeding, pains, cramps, and other ailments. Menstrual cycles are involved. They rely on the female body's hormones working together to maintain a normal process. Slight fluctuations in these hormones can lead to complications. This is why providing assistance is of utmost importance.
 
 
If You Are Experiencing Irregular Menstruation, We can Help!
 
Most researchers conclude that fibroids are the cause of hormonal issues.  This leads to issues with the female menstrual cycle. Studies have shown certain minerals work in combination to reduce issues related to the menstrual cycle. These can assist in helping your body work together to ensure hormones maintain the normal cycle. At Bestmade, we want you to feel great and be without menstrual pains or other issues! That's why we developed a special formula to help provide support for these symptoms. Our Femolin Supplement will help restore balance in your body and reproductive system. Our natural remedy is non-drowsy & non-addictive.  It can be taken without concern of interfering with the effectiveness of birth control or other medications.
The Bestmade Solution. Effective. All Natural Remedy.
 
Are you looking for a remedy to effectively treat irregular menstruation and support normal hormone levels? Look no further. We have you covered with Femolin Natural Remedy by Bestmade. An effective multi-mineral formula for women!
 
Femolin is Non-GMO, gluten-free, non-artificial flavor/color, and features no preservatives. Only the natural stuff you need. Best of all, there are no side effects! Whatsoever!
 
Just drink in water, & go!
 
Yes! Just drink one tablet three times per day with water and go.  Comes with a 30 tablet supply.
 
The Risk-Free Purchase You Can Trust:
 
Bestmade has been selling these products in the USA for nearly ten years and globally for 50 years! We stand behind the quality and effectiveness of our products.
Try an effective remedy. If this product doesn't work for you, we can help you find a formula that fits your needs. All of our products come with a hassle-free, 100% money-back guarantee.
Use For:
It May Help in the symptoms of irregular menstruation for women. This includes painful bleeding, heavy or insufficient flow, cramps, & more.
Recommended Dosage:
Take one tablet three times a day with water or as prescribed by a homeopathic doctor.
Product Information:
30 tablets, approximately a 10 days supply when used as recommended.
Ingredients:
Aletris far D3, Asoka D1, Caulophyllum D4, Cimicifuga D4, Pulsatilla D6, Senecio D3, Vibur-Op D3.
                              100% MONEY BACK GUARANTEE
Other Products you Might be Interested in...
All of our products have a 100% Guarantee. If you are unhappy for any reason and we do not resolve it, We will refund 100% of the original Purchase price. Our goal is to help you, so we stand behind our products.
 Our site provides information regarding health and wellness, it is not a substitute for professional medical advice. You should always consult with your doctor or health care provider regarding your health concerns, and read all directions and information on dietary supplements prior to use.

*Claims based on traditional homeopathic practice, not accepted medical evidence. Not FDA evaluated.
CLICK IMAGE FOR MORE INFO ABOUT MENSTRUAL CYCLE