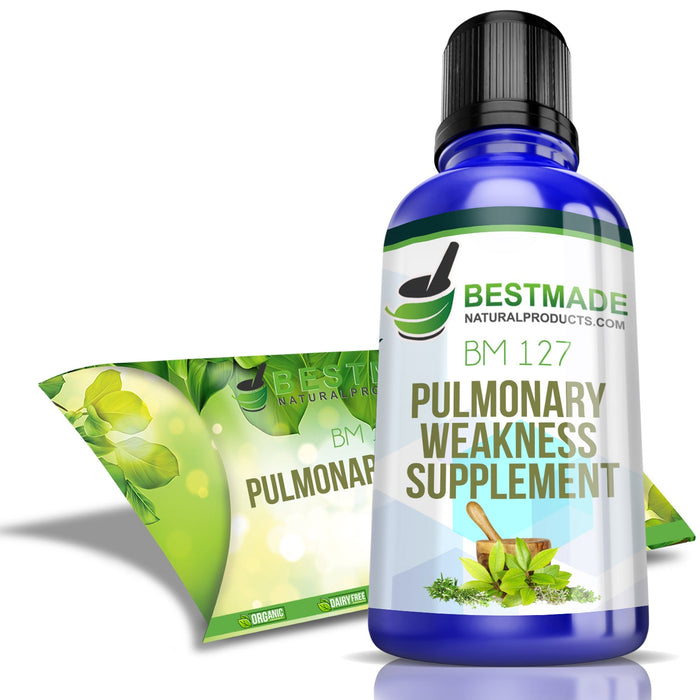 Pulmonary Weakness Natural Supplement (BM127)
Sale
Sale
Original price
$48.99
-
Original price
$48.99
PULMONARY WEAKNESS


Pulmonary weakness might be an auto immune disorder or an after effect of an infection. Specific symptoms includes, shortness of breath particularly with exertion, chronic dry hacking cough, fatigue and weakness, discomfort in the chest and loss of appetite. Pulmonary weakness is weakness of the parenchymatous organs, especially of the lungs. Weakness of the back, nocturnal perspiration, sensitivity to colds, disturbances of the blood circulation, lack of appetite and paleness of face. Pulmonary weakness may be the first cause of tuberculosis diseases. Pulmonary weakness may be an auto immune disorder or the after effects of an infection, viral in nature. The other symptoms may include dyspnoea on exertion, chronic cough, body lethargic and fatigue, feeling of discomfortness in the chest, lack or loss of appetite and the weight loss.


ACTIVE INGREDIENTS
Arsenic IodatD6 60C, PhosphorusD30 100C, Teucrium ScorodoniaD12 100C, SiliceaD30 100C, Calc CarbD30 100C, LycopodiumD30 100C
NON ACTIVE INGREDIENTS
HOW TO USE THIS PRODUCT
Take 10-15 drops 3-4 times a day in 8 oz of water. If you weigh less than 100lbs use half a dose or take as prescribed.
PRODUCT INFORMATION
30mL approximately a 1 month supply when used as recommended
100% MONEY BACK GUARANTEE
Other Products you Might be Interested in...
All of our products have a 100% Guarantee. If you are unhappy for any reason and we do not resolve it, We will refund 100% of the original Purchase price. Our goal is to help you, so we stand behind our products.
Our site provides information regarding health and wellness, it is not a substitute for professional medical advice. You should always consult with your doctor or health care provider regarding your health concerns, and read all directions and information on dietary supplements prior to use.

*Claims based on traditional homeopathic practice, not accepted medical evidence. Not FDA evaluated.
Additional Resources that Can Help You Optimize Your Health 
Click on the images for more info on related topics!