WHAT IS FACIAL PARALYSIS?
Facial paralysis is the loss of voluntary muscle movement on one side of the face. Common symptoms are drooping mouth and eyebrow, uncontrolled tearing, and facial distortion. It is often impossible to fully close the affected eye or completely close the mouth.  
OTHER RELATED PROBLEMS
Your hearing could be affected, sounds on one side may seem much louder than the other, and you may lose your sense of taste.
WHY DOES THIS HAPPEN?
In adults, it is often the result of a virus but it can also be caused by a stroke or tumor. Sometimes the compression of a facial nerve can be the reason. It usually improves over time. For some, there may be some permanent deformity.
GET A BETTER QUALITY OF LIFE & SYMPTOM RELIEF WITH...
Bestmade's natural remedy for Bell's Palsy — a facial paralysis treatment that is safe, effective and easy to use. A supplement that lets you treat facial paralysis in the comfort of your own home.
So safe to use that you can combine it with other medication or use in conjunction with facial muscle exercises for Bell's Palsy or other types of facial paralysis.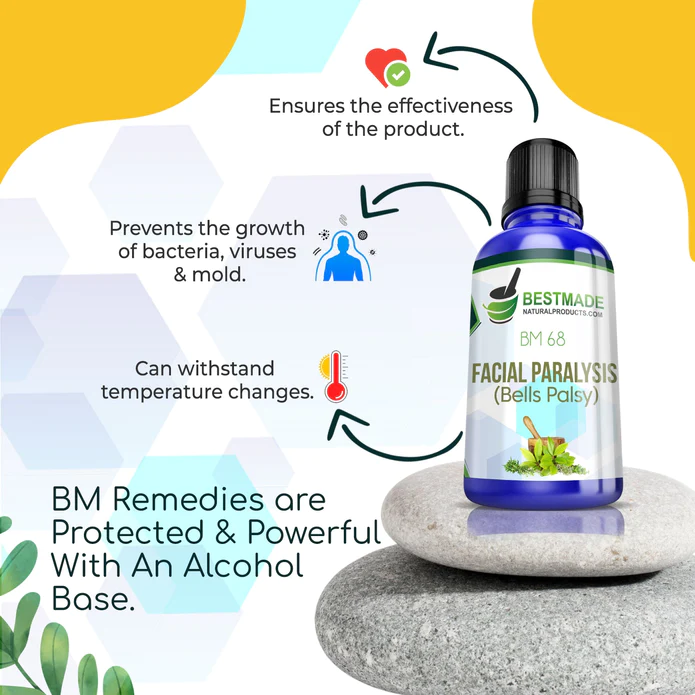 More About This Product
ACTIVE INGREDIENTS
PhosphorusD15 100C,Arg NitD15 100C, GelsemiumD15 100C, Nat MurD15 100C, Kali BromD15 100C, Baryta Carb.D15 100C
NON ACTIVE INGREDIENTS
- Prevents the growth of bacteria, viruses and mold
- Ensures the effectiveness of the product
- Can withstand temperature changes
HOW TO USE THIS PRODUCT
Take 10-15 drops 3-4 times a day in 8 oz of water. If you weigh less than 100lbs, use half a dose or take as prescribed.
PRODUCT INFORMATION
30mL approximately a 1 month supply when used as recommended.
100% Money-Back Guarantee
All of our products have a 100% Guarantee. If you are unhappy for any reason and we do not resolve it, We will refund 100% of the original Purchase price. Our goal is to help you and we stand behind our products.
Our site provides information regarding health and wellness, it is not a substitute for professional medical advice. You should always consult with your doctor or health care provider regarding your health concerns, and read all directions and information on dietary supplements prior to use.
* Claims based on traditional homeopathic practice, not accepted medical evidence. Not FDA evaluated.
Other Product You Might Be Interested In
Learn More About Bestmade Homepathic Products
Additional Resources
We also have additional resources to help you optimize your health. Click the button below to get more information about Bell's Palsy.