What Is Trigeminal Neuralgia?
Increased sensory irritability, severe paroxysmal pain along the course of the nerve, sharp stabbing pain, tenderness often at the points of exist of the nerve. Attacks last from a few seconds to about a minute.
The sufferers who have experienced severe trigeminal neuralgia, describe their pain as shooting, jabbing and like having live wires in the face.
Symptoms of Trigeminal Neuralgia
Trigeminal neuralgia and other neuropathic pain syndrome of the head and the face. Sudden episodes of facial pain. The pain commonly starts near one side of the mouth and then shoot towards the ear, eye or nostril on the same side of the face. It is the most common problem in middle and late life (old age). It affects women more than men. When the trigeminal neuralgia occurs in young people, multiple sclerosis is often the cause.
It is possible that the pain may occur on the both sides of the face. But trigeminal neuralgia usually affects just one side. The symptoms may come and go. Patient may experience attacks of pain off and on all day. Even there may be no pain for a prolonged period of time.
More About This Product
ACTIVE INGREDIENTS
CoccinellaD100 100C, Gnaphalium PolyD100 100C, HydrocotyleD100 100C, Salicylic AcidD100 100C, SyphilinumD100 100C
NON-ACTIVE INGREDIENTS
- Prevents the growth of bacteria, viruses and mold
- Ensures the effectiveness of the product
- Can withstand temperature changes
HOW TO USE THIS PRODUCT
Take 10-15 drops 3-4 times a day in 8 oz of water. If you weigh less than 100lbs, use half a dose or take as prescribed.
PRODUCT INFORMATION
30mL approximately a 1 month supply when used as recommended.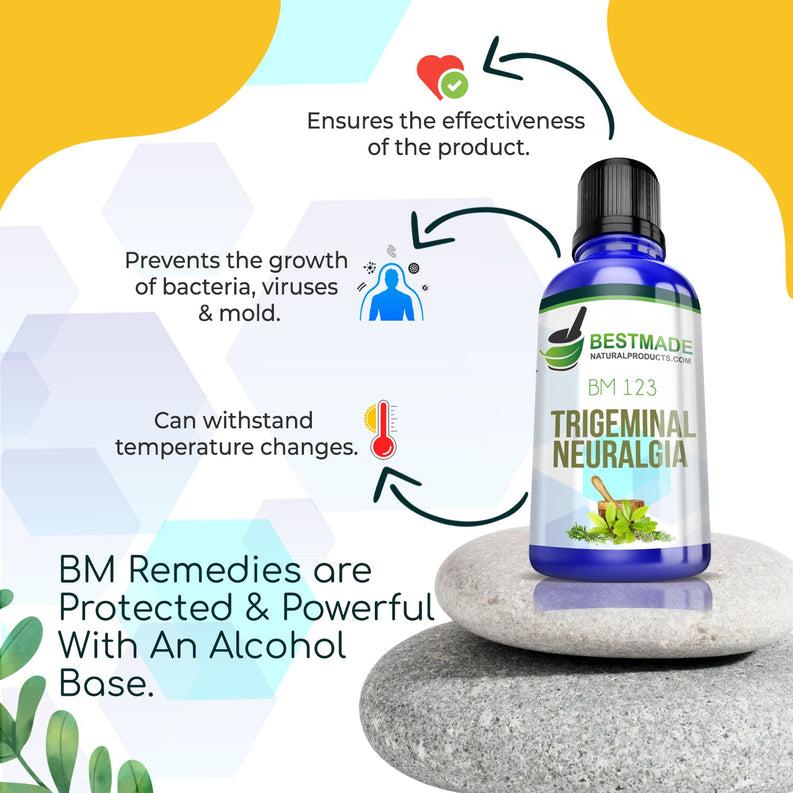 100% Money-Back Guarantee
All of our products have a 100% Guarantee. If you are unhappy for any reason and we do not resolve it, We will refund 100% of the original Purchase price. Our goal is to help you and we stand behind our products.
Our site provides information regarding health and wellness, it is not a substitute for professional medical advice. You should always consult with your doctor or health care provider regarding your health concerns, and read all directions and information on dietary supplements prior to use.
* Claims based on traditional homeopathic practice, not accepted medical evidence. Not FDA evaluated.
Other Products You Might Be Interested In
Learn More About Bestmade Homepathic Products
Additional Resources
We also have additional resources to help you optimize your health. Click the button below to get more information about Toothache and Nerve Pain in the jaw!