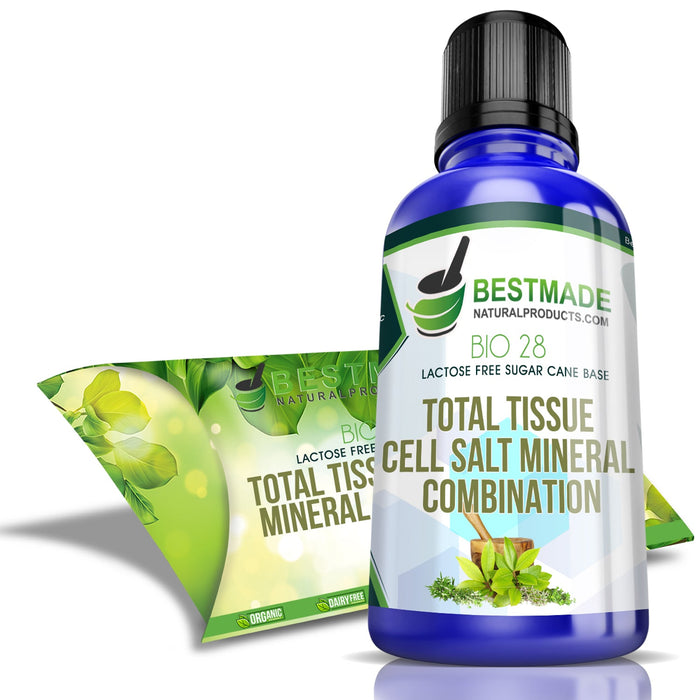 Total Tissue Cell Salt Mineral Combination Bio28
Sale
Sale
Original price
$49.99
-
Original price
$49.99
Natural Mineral Supplement Cell Salts for Health and Wellness
Helps your Body Absorb & Use Nutrients
Improves Sleep Patterns & Increases Energy Levels
Restores Overall Health & Vitality
ALL-NATURAL mineral supplement provides nutrients vital to maintaining healthy cellular function
RESTORES ENERGY AND WELLNESS by promoting a healthy cardiovascular system, immune system and organs
HELPS WITH SYMPTOM SUPPORT for colds, headaches & fatigue calms simple nervous tension & anxiety
NO ARTIFICIAL INGREDIENTS or toxic chemicals.Supports recovery6 from long-term and chronic illness
EASY TO TAKE formula, risk free purchase 100% refund  if  you are not completely satisfied


Cells are the building blocks of life
Your body and each of its vital organs are comprised of millions of cells. Those cells need to interact with each other in order to maintain your overall good health. However, cellular function can sometimes become impaired due to poor nutrition, aging or illness. Depriving your body of necessary minerals can result in cellular dysfunction, which in turn can lead to illness and disease.

Bestmade Bio28 Natural Mineral Supplement fortifies your body with minerals and nutrients. This promotes healthy cell metabolism, optimizes connective tissue production, and helps cells form a natural barrier against damage. An excellent choice for new and nursing mothers. By restoring overall health and balance to your body's cellular structure, you will experience renewed energy and physical wellness

A worry free choice for your family Bio28 contains no chemicals, preservatives or toxins. You can use it in conjunction with other treatments, medicines or supplements without fear of drug interactions. Because it is gentle and all-natural, it is safe enough for the most vulnerable members of your family. Please use only as directed.

ACTIVE INGREDIENTS
Calc Fluor, Calc Phos, Calc Sulph, Ferr Phos, Kali Mur, Kali Phos, Kali Mur, Kali Sulph, Mag Phos, Nat Mur, Nat Phos, Nat Sulph, Silicea)6x

HOW TO USE THIS PRODUCT: 
Take 10-15 drops 3-4 times a day in 8 oz of water. If you weigh less than 100lbs use half a dose or take as prescribed.
PRODUCT INFORMATION
30mL approximately a 1 month supply when used as recommended

Feel great, have more stamina, and take on all of life's adventures. Add Bestmade Bio28 Natural Mineral Supplement to your cart today!
100% MONEY BACK GUARANTEE
Other Products you Might be Interested in...
All of our products have a 100% Guarantee. If you are unhappy for any reason and we do not resolve it, We will refund 100% of the original Purchase price. Our goal is to help you and we stand behind our products.
Our site provides information regarding health and wellness, it is not a substitute for professional medical advice. You should always consult with your doctor or health care provider regarding your health concerns, and read all directions and information on dietary supplements prior to use.

*Claims based on traditional homeopathic practice, not accepted medical evidence. Not FDA evaluated. 
Additional Resources that Can Help You Optimize Your Health 
Click on the images for more info on related topics!