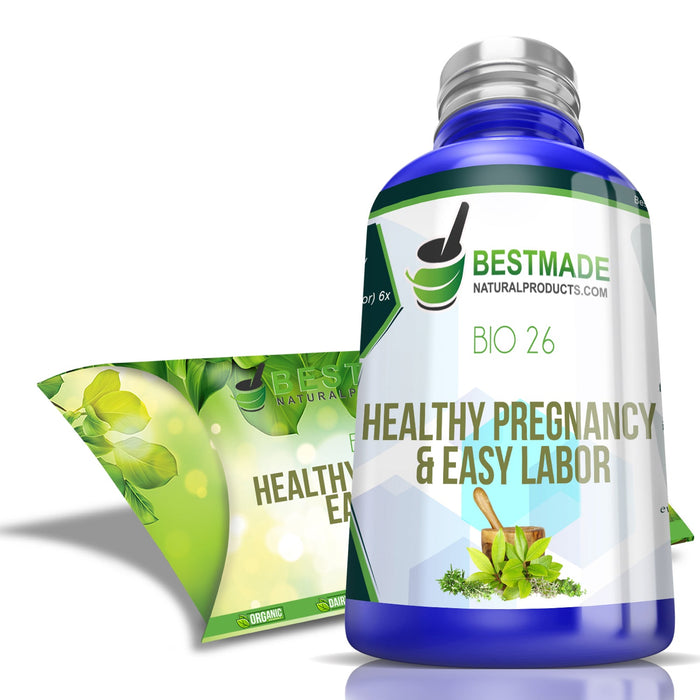 Healthy Pregnancy & Easy Labor Natural Remedy Bio26
Sale
Sale
Original price
$37.99
-
Original price
$37.99
To be Taken During Pregnancy for Optimal Health
May Ease Labor & Delivery Pains
Speeds Recovery - Take With Water - Risk-Free Purchase
Best used to promote a mother's general health and support the development of her unborn child. If taken throughout pregnancy, it may help with labor pain.

☑️ Naturally Healthy Pregnancy:  A Supplement that may help to relieve significantly pains associated with labor and delivery.  Taken throughout pregnancy it will promote elasticity and aid in recovery after birth.  May help mother absorb nutrients which may help with morning sickness.
 
☑️ Safe & Effective Cell Salt Remedy: a supplement that relies on mineral cell salt ingredients' natural support properties to provide your body with the resources it needs. Works to advance the mother's general state of health and assist with developing the unborn child.
 
☑️ No Hassle Use: Drop in water and consume. A simple method to provide the minerals that you need. Easy to carry bottle.
 
☑️ 100% Trusted: Rest at ease. Completely safe for all pregnant women with no interactions with other medications.
 
☑️ Quality You Can Count On: Try our products! If you don't get the results, you want to help you find a formula that works for you—dedicated to meeting your health and wellness needs since 2007—hassle-free customer service.
 

Healthy Pregnancy & Easy Labor Bio26
Are You Currently Pregnant? How are you feeling?
Pregnancy can be one of the most challenging times for a woman. You can suffer from morning sickness, pains, aches, bloating, & other undesirable effects during this time. Your body is going through a massive transformation as your child begins to develop.  
Concerned about Labor & Delivery
Worried about labor pains? You are not alone. While there are no ways to reduce these pains 100%, there are ways to naturally help. Your body relies on natural salts for balance. Giving yourself a natural boost ensures you will have the necessary minerals to promote an easier labor and delivery process.  
If You Are Pregnant and Experiencing Symptoms, We can Help!
At Bestmade, we want you feeling as good as you possibly can! That's why we developed a special bio combination formula to help provide for good health while pregnant and relief for labor issues. Our Healthy Pregnancy & Easy Labor Bio26 treatment may help restore mineral balance in your body. It provides the right combination of minerals to help with your labor pains and the discomforts associated with being pregnant.  It may also speed up your recovery after giving birth. Our natural remedy is non-drowsy & non-addictive. It can be taken without concern of interfering with other medications.
The Bestmade Solution. Effective. All Natural Remedy.
Are you looking for a remedy to effectively deal with pregnancy and labor issues? Look no further. We have you covered with Healthy Pregnancy & Easy Labor Bio26 by Bestmade. An effective bio combination formula for women!
Bio26 is Non-GMO, gluten-free, no artificial flavor/color, and features no harsh preservatives. Only the natural stuff you need. Best of all, there are no side effects! Whatsoever!   
The Risk-Free Purchase You Can Trust:
Bestmade has been selling these products in the USA for nearly ten years and globally for 50 years! We stand behind the quality and effectiveness of our products.
Try an effective remedy. If this product doesn't work for you, we can help you find a formula that fits your needs. All of our products come with a hassle-free, 100% money-back guarantee.  
Use For:
If taken during the entire time of pregnancy, it will assist in relieving the pains of labor. It will also help in promoting the general health of the mother and the development of the child.
Recommended Dosage:
Take 3-5 tablets 3-4 times a day. If you weigh less 100lbs use half a dose or take as prescribed.
Product Information:
25gm approximately a 1 month supply when used as recommended.
 
Ingredients:
Mag Phos, Calc Phos, Kali Phos, Calc Fluor 6x
Other Products you Might be Interested in...
All of our products have a 100% Guarantee. If you are unhappy for any reason and we do not resolve it, We will refund 100% of the original Purchase price. Our goal is to help you, so we stand behind our products.

Our site provides information regarding health and wellness, it is not a substitute for professional medical advice. You should always consult with your doctor or health care provider regarding your health concerns, and read all directions and information on dietary supplements prior to use.

*Claims based on traditional homeopathic practice, not accepted medical evidence. Not FDA evaluated.

Additional Resources that Can Help You Optimize Your Health 
Click on the image for more info on related topics!