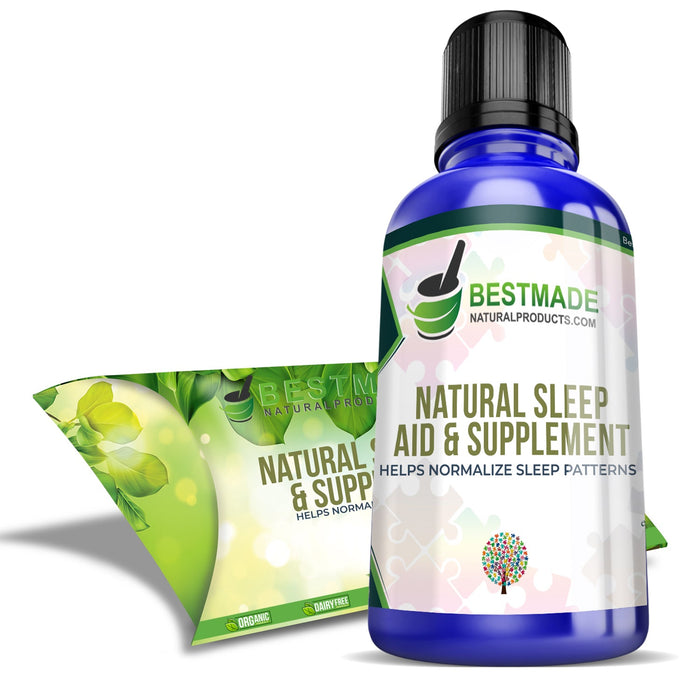 睡眠解决方案
Sale
Sale
Original price
$48.99
-
Original price
$48.99
Natural Sleep Aid to Help Solve Your Child's Sleep Problems
A Non-Addictive Sleep Supplement
Designed to avoid Childhood Insomnia and Behavioral Problems
Restores Healthy Sleep Patterns
NATURALLY SAFE Active properties from nature-based ingredients combine to create a safe and effective sleep aid for kids, that is suitable for teens and adults too. Matricaria recutita (Chamomilla) 8X, Passiflora incarnata 14X, Coffea 30C, and Cina 30C; a perfect blend of these beneficial ingredients gives us a safe and effective remedy for childhood insomnia.
JUST THE GOOD STUFF: Our sleep supplement is designed for kids and is free of any kind of harmful ingredients like gluten, GMO, artificial colors, additives, preservatives or any other toxic ingredients. Everything in the bottle is there because it benefits health and wellness
ULTIMATE SLEEP REMEDY: This natural sleep aid for kids works to regulate the necessary hormones in the body that are responsible for proper sleep cycles. Advanced formula to provide natural calm at bedtime, a  remedy that helps your child to fall asleep faster and stay asleep longer. 
SOOTHING EFFECTS: Helps your child relax and may eliminate hyper activeness, anxiety and other nighttime behavioral problems that interfere with healthy, regular sleep patterns.
MULTIPLE BENEFITS: Proper sleep is very necessary not only for healthy growth but also for the healthy mental functioning of every child. This non-habit forming children's sleeping aid promotes peaceful sleep and promotes happier days with less anxiety and social stress.
RISK-FREE PURCHASE Try our Sleep Solution Remedy designed for kids (but good for adults too), it is made following strict quality standards in FDA approved facilities to give you a reliable sleep solution. If this product doesn't work for you we can help you find a formula that meets your needs.  All of our products come with a hassle-free 100% money-back guarantee
DO YOU HAVE A LOT OF PROBLEMS PUTTING YOUR CHILD TO SLEEP?
Troubled sleep or sleep deprivation can affect the physical and mental health of your child.  Kids on the spectrum are particularly sensitive to stress in learning and social situations, a lack of sleep can make the situation much worse. Behavioral issues and meltdowns can often result when they become overwhelmed by a situation and have not had enough sleep. 
WHAT CAN YOU DO?
Many people with autism take multiple medications, these prescriptions come with a long list of side effects.  Sleep aids can often cause daytime tiredness and difficulty waking up, and many are habit-forming.  Whether your current treatment plan for improving sleep is not effective enough, or, you want to use a more natural approach, we have the remedies to help you meet your wellness goals.

THE BESTMADE SOLUTION
This natural sleep formula helps you or your child to have a more relaxed and deep sleep, it aims to restore natural sleep patterns for improved health and a better function level on a  day to day basis.
Having a regular and deep sleep is one of the essential requirements for the healthy growth and development of your child. This non-habit forming sleep remedy regulates the brain hormones that promote healthy sleep cycles. By calming down the nerves, this relaxation supplement can let your child relax and have a calm sleep. After a peaceful sleep, your child will wake up fresh and ready for a better and happier day ahead.
Tired of nighttime tantrums? Click to add our natural sleep supplement to your cart today.
ACTIVE INGREDIENTS
Matricaria recutita (Chamomilla) 8X, Passiflora incarnata 14X, Coffea 30C, Cina 30C

HOW TO USE THIS PRODUCT
Take 10-15 drops 3-4 times a day in 8 oz of water. If you weigh less than 100lbs use half a dose or take as prescribed.
PRODUCT INFORMATION
30mL approximately a 1 month supply when used as recommended

100% MONEY BACK GUARANTEE

Other Products you Might be Interested in...
 
All of our products have a 100% Guarantee. If you are unhappy for any reason and we do not resolve it, We will refund 100% of the original Purchase price. Our goal is to help you, so we stand behind our products.
Our site provides information regarding health and wellness, it is not a substitute for professional medical advice. You should always consult with your doctor or health care provider regarding your health concerns, and read all directions and information on dietary supplements prior to use.

*Claims based on traditional homeopathic practice, not accepted medical evidence. Not FDA evaluated.
Additional Resources that Can Help You Optimize Your Health 
Click on the images for more info on related topics!