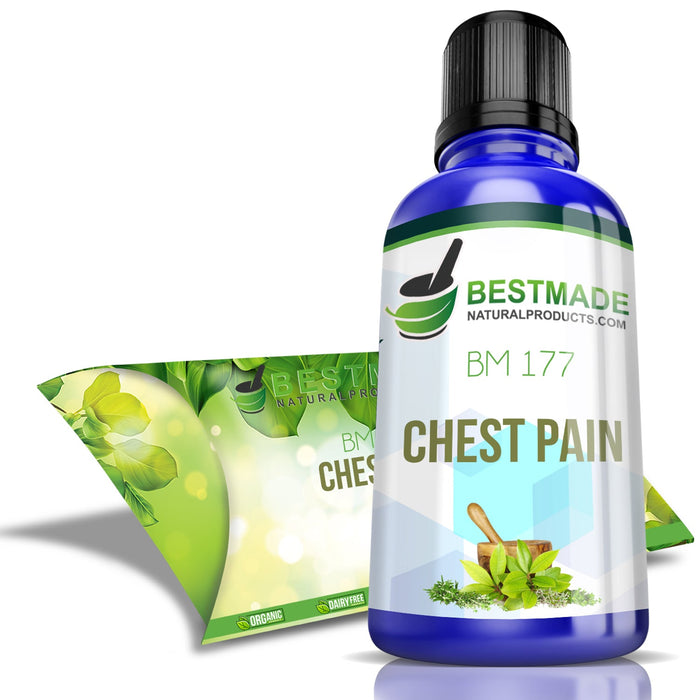 Natural Remedy For Chest Pain (BM177) 30ml
Sale
Sale
Original price
$48.99
-
Original price
$48.99
CHEST PAIN


There are many different causes of chest pain. Out of all, the specific indications may include gastritis, esophagitis, flatulence, constipation, asthma, bronchitis, pneumonia, anxiety and mental stress. If there is cardiac etiology behind, it must be diagnosed properly, prior to treat the patient of chest pain.
The chest pain is not always with the cause of some cardiac etiology. It is most of the time because of anxiety and mental stress. The chest pain symptoms may be from an infection of pneumonia. It may be because of viral bronchitis or due to pleurisy (inflammation of the lining of the lungs). The chest pain may be an episode of over breathing from exercise or emotions. If there is some cardiac etiology behind, your family physician may rule out the cause of chest pain. It may be because of the myocardial infarction or congestive heart failure or cardiac asthma. BM Chest pain compositum helps to reduce and eliminate the chest pain symptoms in the above circumstances.
ACTIVE INGREDIENTS
Arnica MontD6 60C, Cetraria IslandicaD100 100C, StannumD50100C, Bryonia AlbD50 100C, Ferr MetD50 100C, Morgan PureD50 100C
NON ACTIVE INGREDIENTS
HOW TO USE THIS PRODUCT
Take 10-15 drops 3-4 times a day in 8 oz of water. If you weigh less than 100lbs use half a dose or take as prescribed.
PRODUCT INFORMATION
30mL approximately a 1 month supply when used as recommended
All of our products have a 100% Guarantee. If you are unhappy for any reason and we do not resolve it, We will refund 110% of the original Purchase price. Our goal is to help you, so we stand behind our products.

Our site provides information regarding health and wellness, it is not a substitute for professional medical advice. You should always consult with your doctor or health care provider regarding your health concerns, and read all directions and information on dietary supplements prior to use.

*Claims based on traditional homeopathic practice, not accepted medical evidence. Not FDA evaluated.
Additional Resources that Can Help You Optimize Your Health 
Click on the images for more info on related topics!