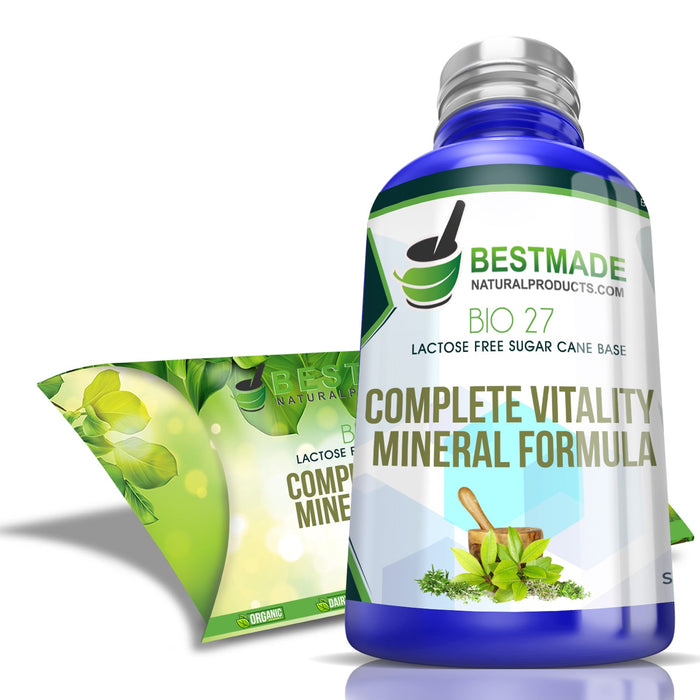 Complete Vitality Mineral Formula Bio27, Lactose-Free
Sale
Sale
Original price
$59.99
-
Original price
$59.99
ENERGY BOOSTER NERVE TONIC & ANXIETY SUPPORT REMEDY
UNIQUE 5 PHOS SYNTHESIS FOR NATURAL STRESS SUPPORT
 COMBATS MINERAL IMBALANCES & FATIGUE 
PREMIUM QUALITY SYNTHESIS: This top notch natural energy booster and nerve tonic supplement features a unique formula that includes the best quality tissue and cell salts. The Calcarea phosphorica 6x, Ferrum phosphoricum 6x, kalium phosphorcium 6x, magnesia phosphorica 6x, natrum phosphorica 6x complex will restore any mineral imbalances, promoting excellent health
BOOST YOUR ENERGY AND IMPROVE YOUR GENERAL PERFORMANCE: Have you been feeling weak due to an illness? Do you crave vitality and feel exhausted? This homeopathic remedy nerve tonic will help you regain your strength and do your utmost. It can support tissue building, proper nerve cell and bone nutrition; as well as boost your immune system.

SUPPORT TENSION AND REMAIN PERFECTLY FOCUSED: BestMade Natural Products homeopathic anxiety support remedy can effectively help you relax. It allows you to settle your mind and concentrate on whatever you have to do.

A MUST HAVE REMEDY FOR ANYONE: This top-quality energy booster can be used by practically anyone, this includes: men, women and little children too. What is more, it does not interact with other drugs or medications and herbal therapies so you can safely use it anytime you need it.
100% RISK FREE PURCHASE:
Keeping you satisfied and meeting all your demands is our number one goal. This is why we offer you a 100% money back guarantee in case this nerve tonic supplement does not live up to your expectations.
Give Yourself An Energy Boost And Support Excellent Cognitive Function Thanks To The Ultimate Nerve Tonic Supplement!
Have you been feeling worn out? Would you like to remain active throughout the day and effectively face stress and improve your memory?

The BestMade Natural Products anxiety support and nerve tonic supplement is exactly what you need! Premium Quality,

Safe an Incomparable and Remarkable Formula This top notch natural energy booster supplement features a unique synthesis. The proprietary blend of 5 essential tissue salts promise to work wonders for your general well-being, allowing you to regain your strength and improve your general performance.

The Calc Phos, Ferr Phos, Kali Phos, Mag Phos, Nat Phos composition will help your body combat any mineral imbalances and effectively fight fatigue and improve vitality.

Last but not least, it can be safely used along with other drug medications and herbal therapies. Enjoy Countless Benefits Apart from giving you an energy boost and helping you feel strong and active, this nerve tonic supplement can provide you with many more benefits. It will support tissue building and it will facilitate the proper nutrition of your nerves, cells and bones too. In addition, it will help you support tension allowing you to remain focused. Furthermore, it will boost your immune system, helping you recover from illnesses and flu at a faster pace. 
HOW TO USE THIS PRODUCT
Take 3-5 tablets 3-4 times a day. If you weigh less 100lbs use half a dose or take as prescribed.INGREDIENTS
ACTIVE INGREDIENTS
(Nat Mur, Kali Phos, Calc Phos)6x
PRODUCT INFORMATION
25gm approximately a 1 month supply when used as recommended.
100% MONEY BACK GUARANTEE
Other Products you Might be Interested in...
All of our products have a 100% Guarantee. If you are unhappy for any reason and we do not resolve it, We will refund 100% of the original Purchase price. Our goal is to help you, so we stand behind our products.
Our site provides information regarding health and wellness, it is not a substitute for professional medical advice. You should always consult with your doctor or health care provider regarding your health concerns, and read all directions and information on dietary supplements prior to use.

*Claims based on traditional homeopathic practice, not accepted medical evidence. Not FDA evaluated.
Additional Resources that Can Help You Optimize Your Health 
Click on the images for more info on related topics!