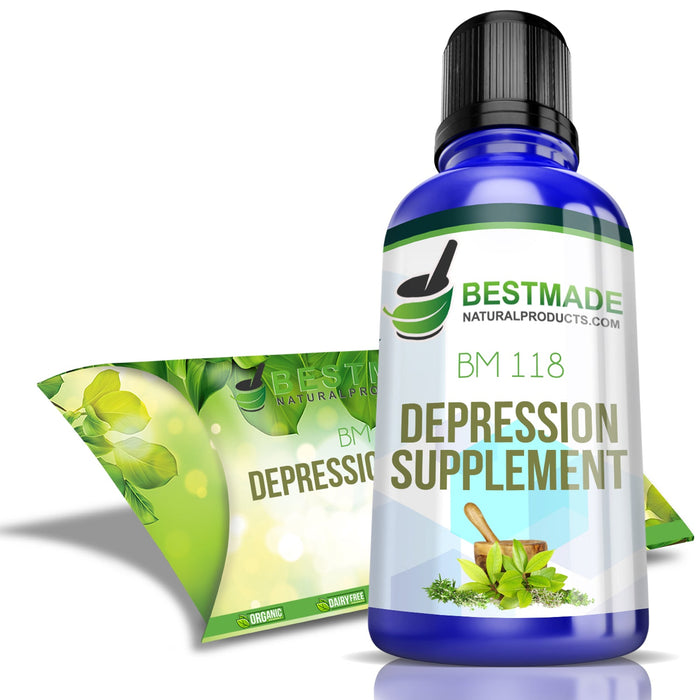 Natural Remedy Depression Supplement (BM118)
Sale
Sale
Original price
$48.99
-
Original price
$48.99
Natural Support for Stress, Anxiety, and Sleep Issues
Irritability, Loss Of Interest, Sadness, Agitation, 
Lack Of Energy, & More - Easy to Use Add to Drinking Water
☑️ SUPPORT FOR ADULT DEPRESSION: Natural formula that helps with depression problems related to stress, anxiety, sleep, & more. 
☑️ NON-ADDICTIVE FORMULA: helps provide anxiety support for adults. Minimizes fatigue and helps improve mood.  
☑️ EASY TO USE: Just put ten drops into water & drink. Repeat 3-4 times per day. Convenient to carry to gym, work, vacation, or anywhere. 
☑️ WORRY FREE SUPPORT All natural supplement. Completely safe for all depressed adult family members with no side effects or  interactions with other medications.
☑️ QUALITY YOU CAN COUNT ON: Try our products! If you don't get the results you want we can help you find a formula that works for you Dedicated to meeting your health and wellness needs since 2007. Stress free customer service.
Natural & Proven Support For Adult Depression
ADULT DEPRESSION GOT YOU FEELING DOWN?
Depression is a complex subject in adults. It consists of many indicators such as persistent sad mood, loss of interest, lack of pleasure in activities that were previously enjoyed, & more. The result can be significant change in appetite or body weight, disturbed sleep patterns, slowness, lack of energy, feeling of worthlessness, difficult concentrating, and recurrent thoughts of death or suicide.
Adult Depression may have a number of complex and interacting symptoms. Typical symptoms exhibited by adult depression patients include, agitation, anxiety, extreme grief, insomnia and irritability. Some adults have one or more combination of medical illnesses that also can cause the onset of depression. These can occur when major life changes occur such as retirement, loss, bereavement, loneliness, moving, lack of exercise, & more.
DOES THIS SOUND LIKE YOU? WHAT CAN BESTMADE DO TO HELP?
At Bestmade, we have your health in mind. We want to help you achieve optimal mental health. This is why we created BM118 Adult Depression Supplement. A formula that's easy to carry and used in your daily water intake. Helps provide what you need to get out of a funk and improve your quality of life.
THE BESTMADE SOLUTION. SAFE & EFFECTIVE SUPPORT FOR DEPRESSION ISSUES.
BESTMADE BM 118 Adult Depression Supplement is a safe & non-addictive remedy. It's specifically formulated to support the healthy functioning of your mood. Features a powerful blend of ingredients derived from nature, together they help you react in a more positive way. 
Have your Adult Depression Supplement anytime you need it. Convenient and easy to use, just mix with water and drink. No unpleasant side effects. We recommend 10-15 drops, 3-4 times per day in 8 oz of water for the average person weighing more than 100 lbs.
With experience comes expertise. We've been selling these products in the USA for almost ten years and globally for over 50 years. 
Trust Bestmade Adult Depression Supplement. The Bestmade Solution!
USE FOR:
Depression in adults. This can include: persistent sad mood, loss of interest, lack of pleasure in activities that were enjoyed, significant change in appetite, disturb sleep pattern, slowness, & more.
ACTIVE INGREDIENTS
Anacardium OriD15 100C, Arsenic AlbD15 100C, Aurum MurD15 100C, Kali BromD15 100C, Lachesis MutusD200 200C, LycopodiumD15 100C, Nat CarbD15 100C, Nat SulphD15 100C, Phosphoric AcidD15 100C
NON ACTIVE INGREDIENTS
HOW TO USE THIS PRODUCT
Take 10-15 drops 3-4 times a day in 8 oz of water. If you weigh less than 100lbs use half a dose or take as prescribed.
PRODUCT INFORMATION
30mL approximately a 1 month supply when used as recommended
                             100% MONEY BACK GUARANTEE
Other Products you Might be Interested in...
All of our products have a 100% Guarantee. If you are unhappy for any reason and we do not resolve it, We will refund 100% of the original Purchase price. Our goal is to help you, so we stand behind our products.

Our site provides information regarding health and wellness, it is not a substitute for professional medical advice. You should always consult with your doctor or health care provider regarding your health concerns, and read all directions and information on dietary supplements prior to use.

*Claims based on traditional homeopathic practice, not accepted medical evidence. Not FDA evaluated.
Additional Resources that Can Help You Optimize Your Health 
Click on the images for more info on related topics!