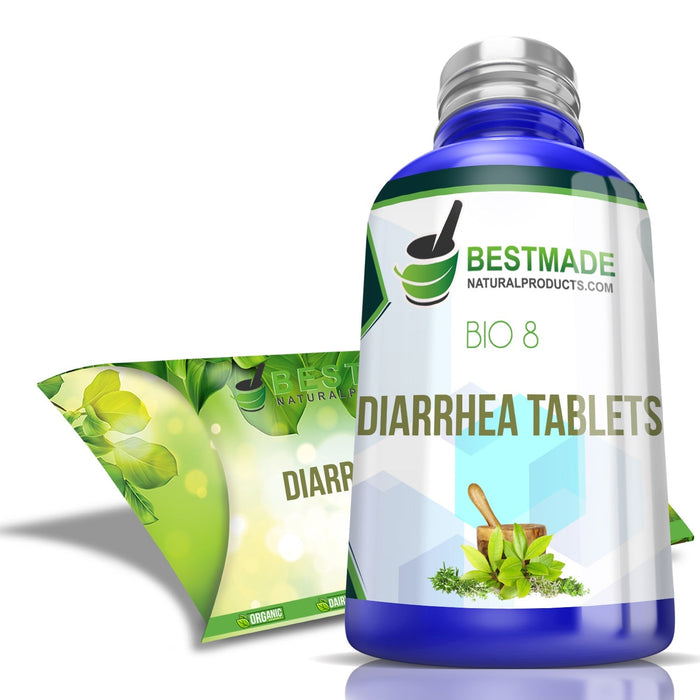 Natural Remedy for Diarrhea Support - Bio8
Sale
Sale
Original price
$37.99
-
Original price
$37.99
Natural Remedy for Diarrhea
May Help with Acute & Chronic Diarrhea 
Anti Cramp & Bloating Formula 
May Aid Symptoms of Watery Stool, Vomiting & More 
No-Risk Purchase
Useful for diarrhea. It may help the body deal with watery stools. Natural support for an upset stomach due to rich or fatty foods. It is safe and effective to use at all times.

PROMOTES NUTRIENT ABSORPTION: Effective formula works to help you use the nutrients in the foods you eat. Just the right mineral combination to restore digestive health.
FOR IRREGULAR STOOL: Proven and effective mineral cell salt supplement to help with symptoms of acute diarrhea, vomiting, dysentery, gastroenteritis, inflammation of the ileum, or undigested stool.
EASY & CONVENIENT: Simply break up 3-5 tablets into water & drink.. Repeat 3-4 times a day.
NO HASSLE USE: Take with you on the go. Easy to carry to work, gym, vacations, or anywhere! 
QUALITY YOU CAN COUNT ON: Try our products! If you don't get the results you want we can help you find a formula that works for you Dedicated to meeting your health and wellness needs since 2007. Hassle-free customer service.


Natural & Proven Diarrhea Remedy
DOES DIARRHEA HAVE YOU FEELING DOWN?
Are you presently suffering from diarrhea? 
This can result in watery, pasty, or undigested stool. These are the main symptoms of acute & chronic diarrhea. Other symptoms associated can result in vomiting, gastroenteritis, & inflammation of ileum (a portion of the small intestine). 
Does this sound like your symptoms?
Unfortunately, symptoms related to an upset stomach and diarrhea can happen from time to time. It is always unpleasant and can affect your overall wellness. There can be a multitude of causes for this dysfunction in your digestive system.
FOR HEALTH & WELLNESS, YOU NEED MINERALS.
This issue isn't just EATING the right foods. You have to be able to absorb and USE nutrients properly. 
That's where Bestmade Diarrhea Bio8 comes to the rescue!
Our Bio-combination pellets go beyond supplements. They help the body to absorb and manage nutrients. This is especially difficult when consuming rich or fatty foods. This helps your body fight, develop, and maintain a stronger digestive system. This foundation will help you break down foods more easily and prevent diarrhea issues. 
THE BESTMADE SOLUTION. AN EFFECTIVE, ALL NATURAL REMEDY
Are you looking to help symptoms associated with diarrhea issues? We can help! 
We offer an all-natural solution that's great for the whole family. May work great for those looking to help with those dreaded digestive issues.  All with no side effects! Whatsoever! 
Swallow pellets with water or dissolve into water, drink, and you are good to go!
THE WORRY-FREE PURCHASE YOU CAN TRUST:
Bestmade has been selling these products in the USA for nearly ten years and globally for 50 years! We stand behind the quality and effectiveness of our products. 
Try our effective remedy. If this product doesn't work for you, we can help you find a formula that fits your needs. All of our products come with hassle-free customer service.
Use For:
Use to support the symptoms of diarrhea. This mineral combination helps the body deal with watery stools containing food and upset caused by rich or fatty foods. Safe to use when you are recovering from a serious illness or surgery.
ACTIVE INGREDIENTS
(Calc Phos, Ferr Phos, Kali Phos, Kali Sulf, Nat Sulf)6x
HOW TO PUT THIS PRODUCT
Take 3-5 tablets 3-4 times a day. If you weigh less 100lbs use half a dose or take as prescribed.
PRODUCT INFORMATION
25gm approximately a 1 month supply when used as recommended.
All of our products have a 100% Guarantee. If you are unhappy for any reason and we do not resolve it, We will refund 100% of the original Purchase price. Our goal is to help you, so we stand behind our products.

Our site provides information regarding health and wellness, it is not a substitute for professional medical advice. You should always consult with your doctor or health care provider regarding your health concerns, and read all directions and information on dietary supplements prior to use.

*Claims based on traditional homeopathic practice, not accepted medical evidence. Not FDA evaluated.


Additional Resources that Can Help You Optimize Your Health 
Click on the images for more info on related topics!