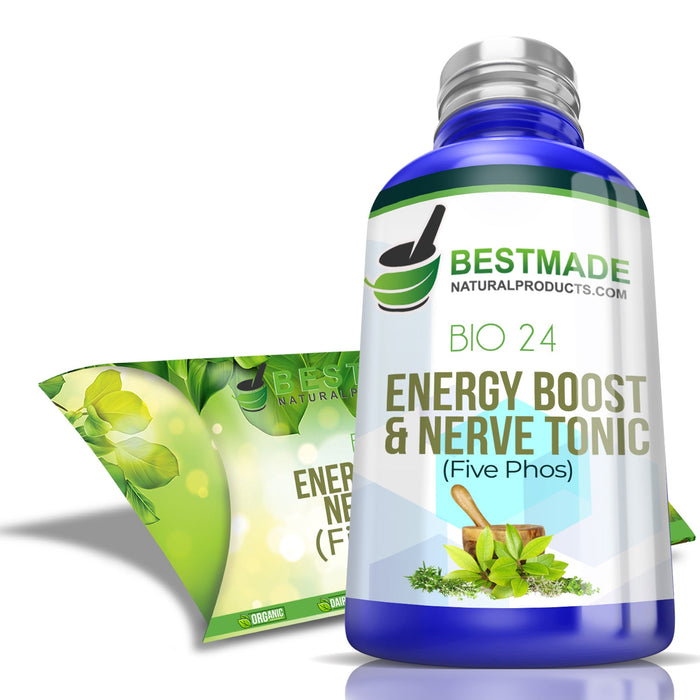 Natural Energy Boost & Nerve Tonic (Five Phos) Bio24
Sale
Sale
Original price
$44.99
-
Original price
$44.99
Max Potency - Get Energized  in Days with 5 Potent Minerals 
Good For Nervous Fatigue, Anxiety & Depression
May Boost Memory, Cognitive Function & Helps you get Restful Sleep
It may provide energy and help you cope with stress. Supports your body's ability to manage, absorb, and use nutrients while boosting your physical health and immune system. It is a useful remedy to keep you alert, fresh, and stress-free all day.
SUPERIOR QUALITY – NOT "FOLK SCIENCE" - 100% MONEY BACK GUARANTEE: Powerful, potent, premium, 200 YEAR proven 5 Phos minerals support ENERGY, FOCUS, MEMORY, SLEEP & HAPPINESS – So you FEEL ALIVE AGAIN IN DAYS - without addiction or reaction. (30 Day Supply)
ABUNDANT VITALITY - Feeling Burnt Out? Stressed? Frazzled? Proven mineral supplement supports increased energy, stamina and performance with uptake optimized Calc Phos 6x, Ferrum Phos 6x, Kali Phos 6x, Mag Phos 6x & Nat Phos 6x.
HAPPY MOOD - Can't Drag Yourself Out of Bed in the Morning? Ups and downs making you feel crazy? 5 phosphates mineral complex may help promote decreased depression & anxiety, plus increased mental stability for CALM ENERGY all day.
BRAIN POWER – Wish you could accomplish more? Remember more? And feel amazingly sharp? Focus brain boost formula quickly absorbs into your bloodstream, providing critical brain minerals you need for laser focus and exceptional cognitive performance.
TOTAL SUPPORT – Quickly, naturally and effectively promotes faster illness & flu recovery while nourishing nerves, cells & bones. The best immunity minerals
A Message from Miro Posavec – Father, Founder & President of BestMade Natural Products
As a small child my son grew very sick. Terrible reactions to conventional medicine made him even 
sicker. The more doctors tried to help, the more he weakened. Nothing seemed to help!
After endless doctors' visits and frustration after frustration, I remember lying awake in terror, 
wondering what might happen to my precious little boy. It seemed everything in the world harmed him.
That's when I decided enough was enough.
I realized others suffered the same challenges as my son, so I feverishly researched until my head 
swam. Finding safe, gentle, natural health products that ACTUALLY WORKED proved a great challenge.
After years of watching him suffer, researching, trial, error and PERFECTION I finally developed a 
product like that supported his full recovery.
And BestMade Natural Products was born.
Because you can't afford any more hits to your health, Bestmade Natural Products…
Meticulously and continuously TESTS every formulation, from seed to source to lab to your bottle
Uses only FDA registered laboratories with the highest ISO Quality & Process Certifications
By sourcing only the cleanest natural homeopathic products, from the best in the world
Five  phos minerals promote STABLE ENERGY, LASER FOCUS, INCREDIBLE MEMORY, REJUVENATING SLEEP & HAPPIER DAYS - without addiction or reaction – or we'll refund you 100%
Scroll up and buy today! 
ACTIVE INGREDIENTS
(Calc Phos, Ferr Phos, Kali Phos, Mag Phos, Nat Phos)6x
HOW TO USE THIS PRODUCT:
Take 3-5 tablets 3-4 times a day. If you weigh less 100lbs use half a dose or take as prescribed.

PRODUCT INFORMATION
25gm approximately a 1 month supply when used as recommended.
 
Other Products you Might be Interested in...
All of our products have a 100% Guarantee. If you are unhappy for any reason and we do not resolve it, We will refund 100% of the original Purchase price. Our goal is to help you, so we stand behind our products.

Our site provides information regarding health and wellness, it is not a substitute for professional medical advice. You should always consult with your doctor or health care provider regarding your health concerns, and read all directions and information on dietary supplements prior to use.

*Claims based on traditional homeopathic practice, not accepted medical evidence. Not FDA evaluated.
Additional Resources that Can Help You Optimize Your Health 
Click on the images for more info on related topics!