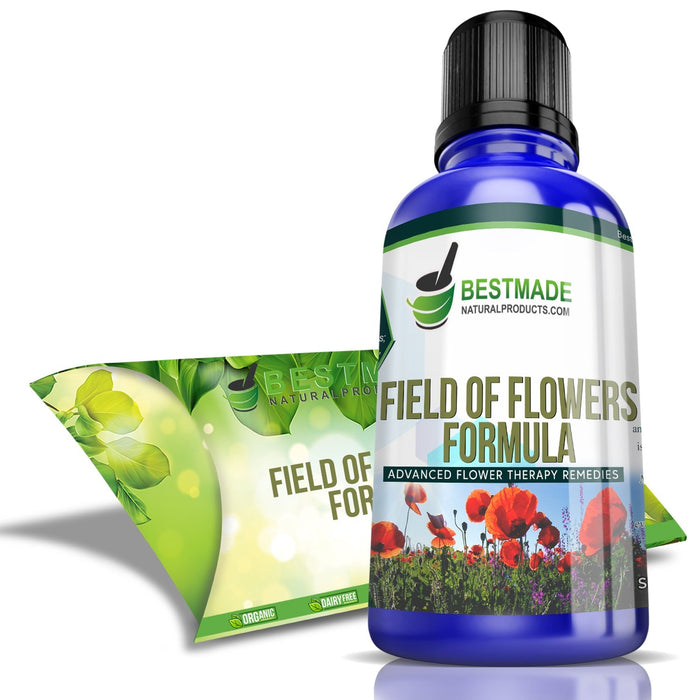 Field of Flowers | Natural Support for Daily Stress - Organic Formula 10mL
Sale
Sale
Original price
$38.99
-
Original price
$38.99
A Combination of all 37 Advanced Flower Remedies
Ease Your Daily stress Levels
Natural Support for Emotional Symptoms
Like Anxiety, Fear, Despair and Exhaustion
No Side Effects, Safe for Adults & Teens
Do you ever wake up tired and  the day just seems to get worse?  You are not sleeping right and you can't concentrate.  Maybe your mind just won't turn off and sometimes you might worry too much.  Anxiety and stress are not your friends, they interfere with you getting to enjoy life...
Natural mood support uses all 37 advanced flower remedies to naturally improve your mood.
A safe and effective alternative to help support feelings of anxiety, hopelessness fear and self-pity.
Improves focus and clarity of thought, while it gently supporting mental and physical exhaustion.
Use when feeling discouraged and overwhelmed, or when suffering from shock.
Great remedy for emotional upset;  safe to use for teens and adults.   
BestMade flower remedies are special. We preserve our remedies in a high alcohol solution, not in water, that way continue to be effective for a longer period of time.
HOW TO USE THIS PRODUCT
Use 7-10 drops in cup or bottle of water and drink.  Repeat as needed. 
ACTIVE INGREDIENTS & WHAT THEY DO
Agrimony - mental torture behind a cheerful face
Aspen - fear of unknown things
Beech - intolerance Centaury - the inability to say 'no'
Cerato - lack of trust in one's own decisions
Cherry Plum - fear of the mind giving way
Chestnut Bud - failure to learn from mistakes
Chicory - selfish, possessive love
Clematis - dreaming of the future without working in the present
Crab Apple - the cleansing remedy, also for self-hatred
Elm - overwhelmed by responsibility
Gentian - discouragement after a setback
Gorse - hopelessness and despair
Heather - self-centredness and self-concern
Holly - hatred, envy and jealousy
Honeysuckle - living in the past
Hornbeam - tiredness at the thought of doing something
Impatiens - impatience Larch - lack of confidence
Mimulus - fear of known things
Mustard - deep gloom for no reason
Oak - the plodder who keeps going past the point of exhaustion
Olive - exhaustion following mental or physical effort
Pine - guilt
Red Chestnut - over-concern for the welfare of loved ones
Rock Rose - terror and fright
Rock Water - self-denial, rigidity and self-repression
Scleranthus - inability to choose between alternatives
Star of Bethlehem- shock
Sweet Chestnut - Extreme mental anguish, when everything has been tried and there is no light left
Vervain - over-enthusiasm
Vine - dominance and inflexibility
Walnut - protection from change and unwanted influences
Water Violet - pride and aloofness
White Chestnut - unwanted thoughts and mental arguments
Wild Oat - uncertainty over one's direction in life
Wild Rose - drifting, resignation, apathy
Willow - self-pity and resentment
 
PRODUCT INFORMATION
30mL approximately a 1 month supply when used as recommended
                             100% MONEY BACK GUARANTEE
Other Products you Might be Interested in...
All of our products have a 100% Guarantee. If you are unhappy for any reason and we do not resolve it, We will refund 100% of the original Purchase price. Our goal is to help you, so we stand behind our products.
Our site provides information regarding health and wellness, it is not a substitute for professional medical advice. You should always consult with your doctor or health care provider regarding your health concerns, and read all directions and information on dietary supplements prior to use.

*Claims based on traditional homeopathic practice, not accepted medical evidence. Not FDA evaluated.
 CLICK IMAGE FOR MORE INFO ABOUT EMOTIONAL HEALTH