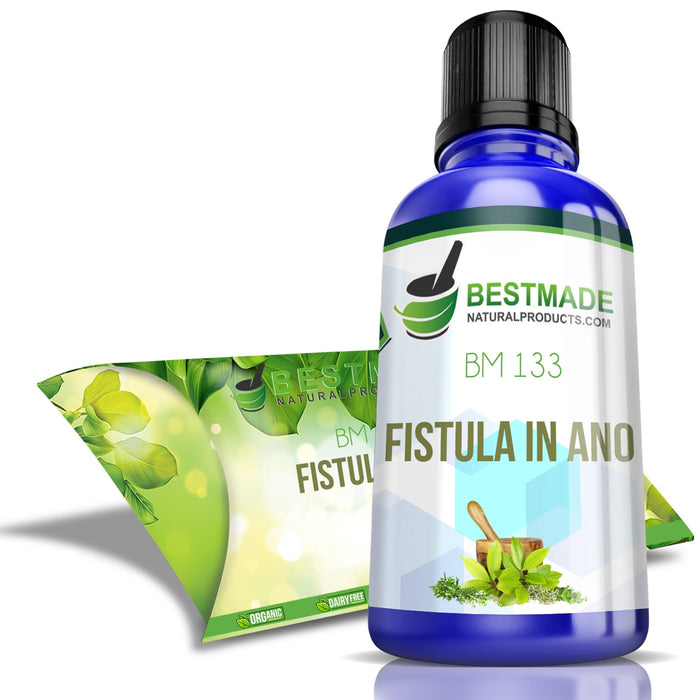 Natural Remedy for Fistula in Ano (BM133)
Sale
Sale
Original price
$48.99
-
Original price
$48.99
 A Natural Remedy for Bleeding & Pus Discharge in Anus 
Helps Normalize Bowel Movements & Support Throbbing Pains 
Drink with Water - Risk-Free Purchase
☑️ REPAIRS SKIN: A precise effective supplement that works to help the body repair Fistula in Amo issues. This health concern can result in skin irritation around the anus and lead to bleeding, pus, & more.
☑️ FOR INFECTIONS IN ANAL REGION: All-natural supplement for infection of glands located in the anal canal. Naturally, restore and repair digestive tract health.
☑️  DRINK AND GO: A premium formula designed for those on the go. Just add to water and drink. Easy to carry anywhere! 
☑️  WORRY-FREE FORMULA: All natural with no side effects. This natural remedy can work alone or taken while using other medications. 
☑️ QUALITY YOU CAN COUNT ON: Try our products! If you don't get the results you want we can help you find a formula that works for you. Dedicated to meeting your health and wellness needs since 2007. Hassle-free customer service.
Fistula in Amo BM133
What is Fistula in Amo?
Fistula in Amo is the intermittent or persistent discharge from the anal region. Pink or red small lumps on the perianal region can occur. Swelling, bleeding, skin excoriation may be the specific symptoms.
Where does this occur?
A fistula in ano arises as a consequence of infection of one of the glands that are located within the anal canal. Bacteria that are normally present in the anal glands begin to multiply and form abscesses that burrow through the walls of the rectum and to the skin surrounding the anus. Some abscesses will rupture or break open spontaneously. The symptoms of anal fistula include pain, bleeding, recurrent anal infections, soiling with pus, and blood.
What should you do if you suffer from Fistula in Amo? 
To have success, you need to have a plan. In the case of Fistula in Ano, you need to repair the skin cells that are infected. You do this with a proper balance of natural minerals and plant-based ingredients. This is why we created a targeted formula to meet your needs. Bestmade Naturals Fistula in Amo BM133 may help resolve or minimize these symptoms. 
BM133 comes in a small droplet bottle you can take on the go. Take it to work, school, gym, vacations, and more. Simply put 10-15 drops per dosage at around 3-4 times per day in 8 oz of water.  Take as directed and get ready to feel better.  Not satisfied with your results? Just let us know.  Our no-hassle customer service will be happy to help you find the formula that works best for you. 
Use for:
Intermittent or persistent discharge from the anal region. Past history of the perianal abscess. Pink or red small lump on the perianal region. Swelling, bleeding, skin excoriation may be the specific symptoms
ACTIVE INGREDIENTS
SiliceaD6 60C, Carbo VegD10 100C, Aurum MurD10 100C, Thuja OccD7 70C, Acid NitD7 70C, Ferrum IodD7 70C
NON ACTIVE INGREDIENTS
HOW TO USE THIS PRODUCT
Take 10-15 drops 3-4 times a day in 8 oz of water. If you weigh less than 100lbs use half a dose or take as prescribed.
PRODUCT INFORMATION
30mL approximately a 1 month supply when used as recommended
100% MONEY BACK GUARANTEE
Other Products you Might be Interested in...
All of our products have a 100% Guarantee. If you are unhappy for any reason and we do not resolve it, We will refund 100% of the original Purchase price. Our goal is to help you, so we stand behind our products.

Our site provides information regarding health and wellness, it is not a substitute for professional medical advice. You should always consult with your doctor or health care provider regarding your health concerns, and read all directions and information on dietary supplements prior to use.

*Claims based on traditional homeopathic practice, not accepted medical evidence. Not FDA evaluated.
Additional Resources that Can Help You Optimize Your Health 
Click on the images for more info on related topics!