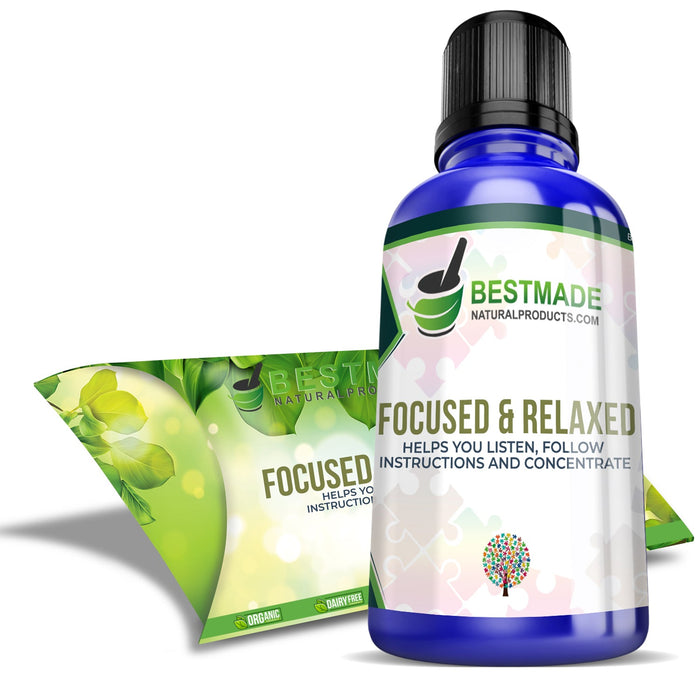 Organic Natural Supplement for Focus and Relaxation
Sale
Sale
Original price
$41.33
-
Original price
$41.33
Helps You Listen Follow Instructions & Concentrate Better
A Natural Health Supplement for Autism
Nerve Support with Brain Boosting Power
 Anxiety Supplement for Better Performance
BRAIN SUPPORT for enhanced focus, calms the nervous system and overactive Improves listening skills and increases your ability to follow instructions and increases time spent on tasks
A NATURAL CALM promotes fewer impulsive behaviors a safe effective anxiety supplement to help you  remain peaceful and less distractible which may also improve frustration tolerance. The right mindset improves learning.
DERIVED FROM NATURE A perfect combination of active ingredients to make an effective and reliable remedy for you and your family. Our focus and relaxation remedy is prepared from nature-based ingredients like Hyoscyamus (30C), Tuberculinum (30C), Arsen lod- (18X), and VertaAlb. A naturally safe alternative that is non-habit forming, has no side effects and that won't interact with other treatment options.
JUST THE GOOD STUFF is all we put in our focus and relaxation supplement; designed for kids, safe and effective for everyone. Free from harmful chemicals like gluten, GMO, artificial colors, additives, preservatives or any other toxic ingredients. Everything in the bottle is there because it benefits your mental health and wellness 
RISK FREE PURCHASE: Try our focus formula for improved relaxation and better concentration designed specifically for those on the spectrum, great for kids works for adults too. It is made under strict quality standards in an FDA approved facility to give you a reliable tool to help you remain calm, think clearly and stay on task. If this product doesn't work for you, we can help you find a formula that meets your needs.  All of our products come with a hassle free 100% money back guarantee.
PROBLEMS WITH CONCENTRATING AND COMPLETING TASKS?
Research shows that if a person on the spectrum is in the right space mentally and emotionally, plus their sensory needs have been met they are better able to focus, learn and retain information. Unfortunately sensory issues, lack of sleep or new routines can cause stress, repetitive behaviors, frustration and interfere with being able to focus.
WHAT CAN YOU DO?
Sensory rooms, therapy, organizational strategies and medication all have a role to play in helping people with asd improve their ability to learn and complete their work. Sometimes in spite of interventions and treatments  we are unable to improve listening and learning to the degree we need. 
Medications are used in a trial and error basis in most cases, and many prescriptions come with a long list of side effects. 
Do you need something to promote calmness and improve stress levels and learning but without any harmful side effects?
THE BESTMADE SOLUTION
Our focus and relaxation remedy can help you;  it's a brain support formula that support stress,  helps you to have better concentration, lets you listen more carefully and follow instructions. Better concentration leads to enhanced performance in work, school and personal life. This brain booster is made using only natural ingredients so that you can have a 100% safe, natural formula that has no side effects and is non addictive.
Think calmly and clearly. Let the learning begin!
Click on 'add to cart' now.
ACTIVE INGREDIENTS
Tuberculinum (30C) Arsen Lod-(18X), VertaAlb(18X)
NON ACTIVE INGREDIENTS
HOW TO USE THIS PRODUCT
Take 10-15 drops 3-4 times a day in 8 oz of water. If you weigh less than 100lbs use half a dose or take as prescribed.
PRODUCT INFORMATION
30mL approximately a 1 month supply when used as recommended

100% MONEY BACK GUARANTEE

Other Products you Might be Interested in...
All of our products have a 100% Guarantee. If you are unhappy for any reason and we do not resolve it, We will refund 100% of the original Purchase price. Our goal is to help you, so we stand behind our products.
Our site provides information regarding health and wellness, it is not a substitute for professional medical advice. You should always consult with your doctor or health care provider regarding your health concerns, and read all directions and information on dietary supplements prior to use.

*Claims based on traditional homeopathic practice, not accepted medical evidence. Not FDA evaluated. 
Additional Resources that Can Help You Optimize Your Health 
Click on the images for more info on related topics!