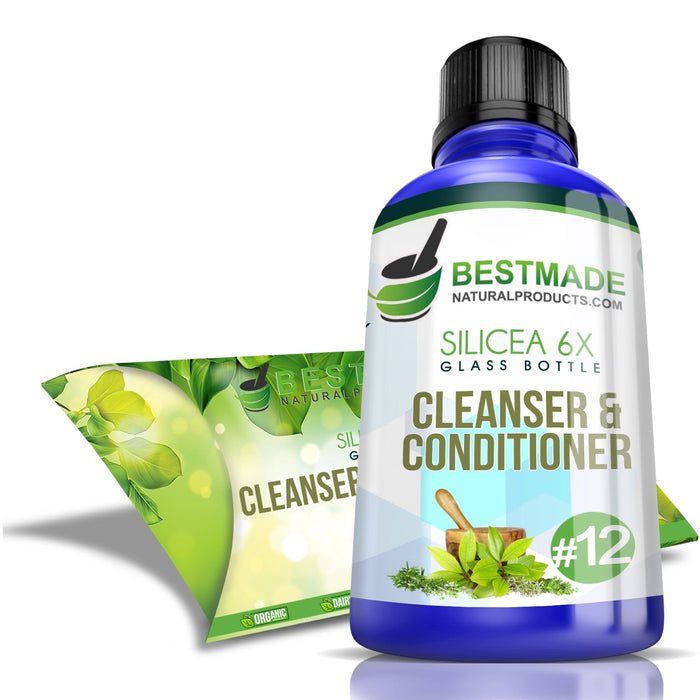 Hair & Skin Natural Cleanser & Conditioner
Sale
Sale
Original price
$27.99
-
Original price
$27.99
Hair & Skin & Nail Nutrient
Use for Pimples, Boils, Styes, Ulcers & Excessive Perspiration
Speed Healing after Surgery, Eases Constipation
WHAT IS IT, WHAT DO WE USE IT FOR?
Silicea is an important mineral essential for the health of hair, nails, and teeth. It is an effective treatment to nourish these parts of the body,  a mineral makeover. Silicea can also stimulate the body to reabsorb the fibrotic condition and scar tissues to increase over all health.
MORE THINGS YOU CAN USE IT FOR...
This is a good remedy for pus formation such as found in pimples and boils. It is also useful for pus formation in conditions such as empyema. It eliminates waste products from the body and effective for the betterment of the internal system.
It also helps with body growth, learning to walk, and chronic bronchitis.
Use for:
Best cell salt for people with weak hair and weak nails. Helps to clear pimples, styes, and ulcers. Also useful for people who sweat too much. ricket, slow in learning to walk, chronic bronchitis, eliminates pus discharges, and more.
ACTIVE INGREDIENTS IN HAIR & SKIN SUPPLEMENT
Silicea 6x (SiO2) Lactose Base
HOW TO USE THIS PRODUCT:
Take 3-5 tablets 3-4 times a day. If you weigh less 100lbs use half a dose or take as prescribed
PRODUCT INFORMATION
25gm approximately a 1 month supply when used as recommended.
Other Products you Might be Interested in...
All of our products have a 100% Guarantee. If you are unhappy for any reason and we do not resolve it, We will refund 100% of the original Purchase price. Our goal is to help you, so we stand behind our products.

Our site provides information regarding health and wellness, it is not a substitute for professional medical advice. You should always consult with your doctor or health care provider regarding your health concerns, and read all directions and information on dietary supplements prior to use.

*Claims based on traditional homeopathic practice, not accepted medical evidence. Not FDA evaluated. 
Additional Resources that Can Help You Optimize Your Health...
Click on the images for more info on related topics!