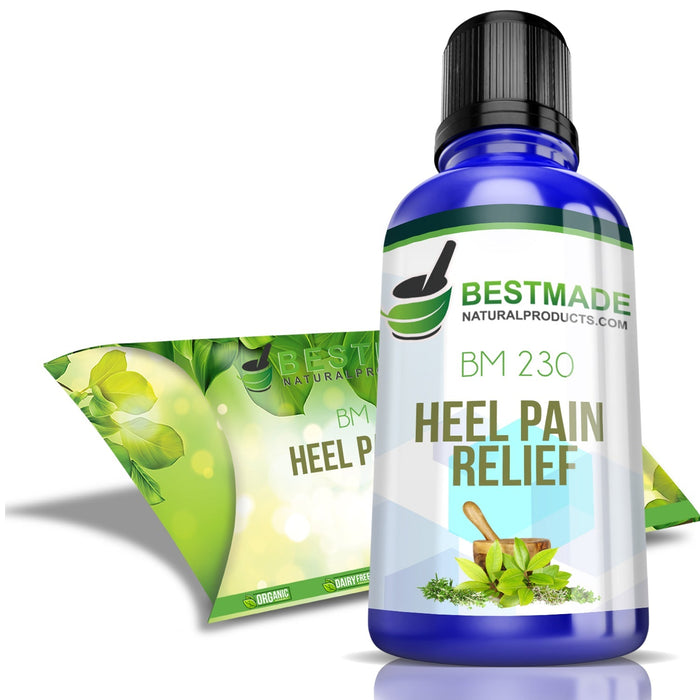 Natural Remedy & Support for Heel Pain (BM230)
Sale
Sale
Original price
$48.99
-
Original price
$48.99
HEEL PAIN


Heel pain one of the most common forms of the foot pain in adults. It often occurs as a result of daily activities and exercises. The specific symptoms of heel pain includes sharp localized pain, heel pain worse on arising in the morning and after rest, aggravation by prolonged weight bearing.
This problem is most commonly seen in the middle age and over weight adults. Heel pain is generally a result of faulty biomechanics (walking gait abnormalities) that place too much stress on the heel bone and the soft tissues that attach to it. The stress may also result from injury or a bruise incurred while walking, running or jumping on a hard surface. The general symptoms include heel pain because of standing for prolonged periods, obesity, heel bone bruises, sharp pain in the bottom, and/or inside margin of the heel often worse when getting up in the morning or after rest. Patient feels little better on continuous walk and in some patients it gets worse.


ACTIVE INGREDIENTS
Acid BenzD20 200C, CimicifugaD20 200C, ColchicumD20 200C, LedumD20 200C, PulsatillaD20 200C, RutaGr. D20 200C, Calc PhosD20 200C
NON ACTIVE INGREDIENTS


HOW TO USE THIS PRODUCT
Take 10-15 drops 3-4 times a day in 8 oz of water. If you weigh less than 100lbs use half a dose or take as prescribed.
PRODUCT INFORMATION
30mL approximately a 1 month supply when used as recommended

All of our products have a 100% Guarantee. If you are unhappy for any reason and we do not resolve it, We will refund 100% of the original Purchase price. Our goal is to help you, so we stand behind our products.

Our site provides information regarding health and wellness, it is not a substitute for professional medical advice. You should always consult with your doctor or health care provider regarding your health concerns, and read all directions and information on dietary supplements prior to use.

*Claims based on traditional homeopathic practice, not accepted medical evidence. Not FDA evaluated.
Additional Resources that Can Help You Optimize Your Health 
Click on the images for more info on related topics!