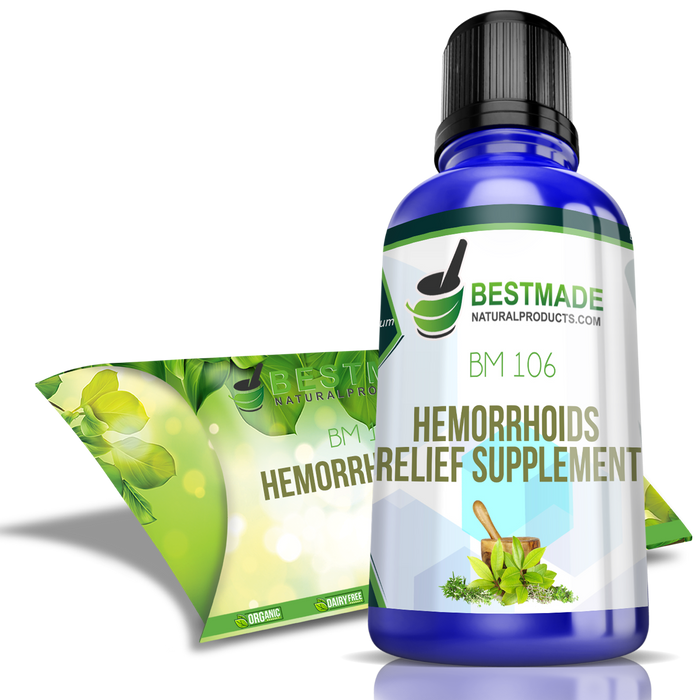 Natural Hemorrhoids Support Remedy (BM106)
Sale
Sale
Original price
$48.99
-
Original price
$48.99
NATURAL HEMORRHOIDS SUPPORT TREATMENT
AN   EFFECTIVE DIETARY SUPPLEMENT
SUPPORTS ITCHING & INFLAMMATION
REDUCES CHANCE OF INFECTION
IMPROVES VEIN HEALTH
WHY DO YOU GET HEMORRHOIDS?
Hemorrhoids (piles) are enlarged blood vessels in or around the anus. Symptoms may include pain, bleeding, itching, and difficult bowel movements.  Chronic constipation, diarrhea, obesity, and pregnancy can cause or worsen piles or hemorrhoids. Even the strain of constant lifting can cause piles.
GET QUICK NATURAL HEMORRHOIDS SUPPORT!
Our all natural remedy is a tested and proven combination of ingredients that  provides effective and soothing support of your worst symptoms.  Dual action power means healing power for both internal and external hemorrhoids. You will experience a reduction in swelling and inflammation plus improved skin healing. 
When your symptoms disappear keep taking this product for 3 to 4 weeks to complete the healing process and strengthen your veins for improved vein health.
An easy to use formula; just add the indicated number of drops to some water and drink. No messy or unpleasant hemorrhoids creams or ointments required.
Our products  do not have side effects or interactions and may be combined with other treatment options.  Safe to use while pregnant.
ACTIVE INGREDIENTS
AesculusD3 30C, Beta VulgarisD3 30C, Calc FluorD6 60C, Negundium AmericanaD6 60C, Paeonia OffD2 20C, RatanhiaD2 20C, Sedum AcreD6 60C, SulphurD2 20C
NON ACTIVE INGREDIENTS
HOW  TO  USE THIS PRODUCT
Take 10-15 drops 3-4 times a day in 8 oz of water. If you weigh less than 100lbs use half a dose or take as prescribed.
PRODUCT INFORMATION
30mL approximately a 1 month supply when used as recommended
100% MONEY BACK GUARANTEE
Other Products you Might be Interested in...
All of our products have a 100% Guarantee. If you are unhappy for any reason and we do not resolve it, We will refund 100% of the original Purchase price. Our goal is to help you, so we stand behind our products.

Our site provides information regarding health and wellness, it is not a substitute for professional medical advice. You should always consult with your doctor or health care provider regarding your health concerns, and read all directions and information on dietary supplements prior to use.

*Claims based on traditional homeopathic practice, not accepted medical evidence. Not FDA evaluated.
Additional Resources that Can Help You Optimize Your Health 
Click on the images for more info on related topics!