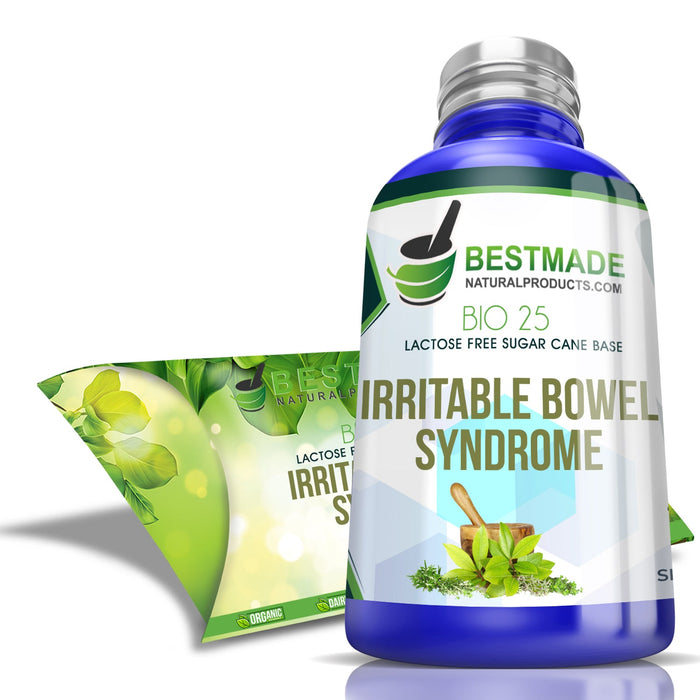 Natural Remedy for Irritable Bowel Syndrome (Bio25)
Sale
Sale
Original price
$59.99
-
Original price
$59.99
Fast Support of Irritable Bowel Syndrome & Stomach Acid, Gas & Indigestion A Natural Remedy Lactose Free with Sugar Base
ENJOY YOUR REGULAR ACTIVITIES without fear of GI tract troubles or the embarrassing side effects that keep you near a bathroom
ELIMINATE YOUR ACID INDIGESTION, gas, bloating, even the headache and vomiting that typically accompany IBS
ALL NATURAL INGREDIENTS make a safe and effective medicine for adults and children alike
FAST AND EFFECTIVE gentle remedy contains no chemical or pharmaceutical ingredients
MANUFACTURED IN FDA-registered facilities that follow stringent GMP processes for quality control and consistency
Best Made has a product just for you to help calm down those tummy troubles and get you back into your life!
Millions of people annually suffer from gastrointestinal troubles!

Each year as many as 10 million people report to their physician that they lose out on regular daily activity due to indigestion. That number doesn't include the nearly 3 million who annually report being bedridden due to irritated stomachs. Severe conditions such as Irritable Bowel Syndrome can leave sufferers so miserable that they can become afraid to eat at all, risking weight loss and malnutrition. Still others, afraid of having embarrassing gas during a public function, may starve themselves for hours in advance so they feel safe going out.

Let Best Made Natural Products put an end to your suffering with "IBS"

Everyone faces GI tract troubles sometimes whether it's an occasional acidic stomach, gas or indigestion, and no one likes to hear, "Mommy, my tummy hurts". Best Made Natural Products "IBS" is a gentle, effective medicine to help naturally ease all your tummy troubles and get back into the life you love. Like all Best Made products, I
With the highest quality natural ingredients, such as Nat Phos, Nat Sulf, and Silicea you can count on Best Made IBS to eliminate your acidic indigestion, gas, bloating, even the accompanying headache and vomiting.
ACTIVE INGREDIENTS
(Nat Phos, Nat Sulf, Silicea) 6x 
HOW TO USE THIS PRODUCT:
Take 3-5 tablets 3-4 times a day. If you weigh less 100lbs use half a dose or take as prescribed.
PRODUCT INFORMATION
25gm approximately a 1 month supply when used as recommended.  
Other Products you Might be Interested in...
All of our products have a 100% Guarantee. If you are unhappy for any reason and we do not resolve it, We will refund 100% of the original Purchase price. Our goal is to help you, so we stand behind our products.

Our site provides information regarding health and wellness, it is not a substitute for professional medical advice. You should always consult with your doctor or health care provider regarding your health concerns, and read all directions and information on dietary supplements prior to use.

*Claims based on traditional homeopathic practice, not accepted medical evidence. Not FDA evaluated.
Additional Resources that Can Help You Optimize Your Health 
Click on the images for more info on related topics!