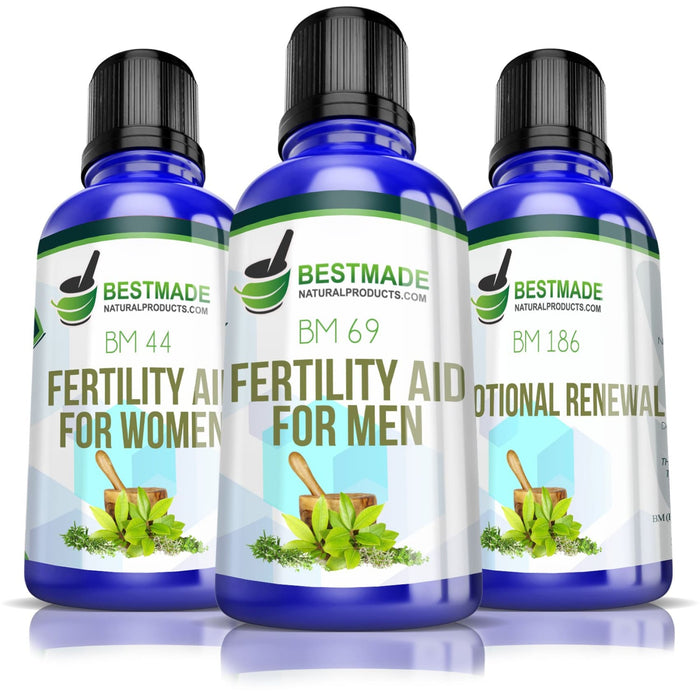 Natural Fertility Kit Formula for Couples
Sale
Sale
Original price
$86.99
-
Original price
$86.99
Natural Improves Reproductive Health, Regulates Hormone Production for both Men and Women, Boosts Libido & Helps Clear Emotional Trauma and Stress
FOR WOMEN is designed to restore hormonal balance, regulate ovulation and regulate menstruation
FOR MEN supports adequate testosterone production for increased sperm count and motility
BOTH BOOST SEXUAL DESIRE-Always trying to get pregnant can decrease your sex drive this kit can help
BUILD EMOTIONAL BALANCE-Recover from feelings of frustration or anger and decrease physical stress
EASY TO TAKE all natural fertility treatment, non-prescription, no side effects or interactions
A COMPLETE SOLUTION TO IMPROVE YOUR CHANCES OF CONCEIVING.
WANT TO BE PARENTS BUT IT IS JUST HASN'T HAPPENED YET? Our supplements provide support for both the physical and emotional difficulties that prevent pregnancy. By addressing the constraints on both the mind and the body we are able to promote optimal hormonal and emotional balance which can really improve your chances of conceiving a child. Fertility Aid and Emotional Renewal work together to help you get pregnant.

FERTILITY AID Supports and regulates hormone production to improve the health and mobility of sperm, and for women it regulates female ovulation and menstruation and aids in the production of healthy eggs. Together these things improve the possibility of both fertilization and implantation.
IT'S NOT JUST ABOUT YOUR BODY! Your emotional situation also needs to be considered. Emotional Renewal is designed to help you through the grief and frustration that often results from unsuccessful attempts to become pregnant. You haven't done anything wrong but you may still be feeling a lot of guilt. By releasing the negative feelings healing can begin and unhealthy physical responses can be minimized. Our precise low dosage treatment gently helps your body get in balance and can make it easier for you to clear your thoughts, remain in a good frame of mind and reach your optimal level of reproductive health.

FERTILITY TREATMENTS, SUPPLEMENTS AND MULTIVITAMINS No problem! Fertility Aid and Emotional Renewal will not cause interactions; they will work in conjunction with your current treatment. Of course it is always a good idea to let your doctor or health care provider know everything you are taking.

TIRED OF BEING DISAPPOINTED? Having a hard time getting in the mood? All the stress, anxiety, disappointment and self-doubt that come with fertility problems can lead to a real decrease in your sex drive. Stop blaming yourself; this is a difficult time for you so naturally your libido might be suffering a little or even a lot. Fertility Aid Plus supplements may help your interest in sex to return and may increase your sexual desire!
DOSAGE: 
Take 10-15 drops 3-4 times a day in 8 oz of water. If you weigh less than 100lbs use half a dose or take as prescribed.
All of our products have a 100% Guarantee. If you are unhappy for any reason and we do not resolve it, We will refund 100% of the original Purchase price. Our goal is to help you, so we stand behind our products.

Our site provides information regarding health and wellness, it is not a substitute for professional medical advice. You should always consult with your doctor or health care provider regarding your health concerns, and read all directions and information on dietary supplements prior to use.

*Claims based on traditional homeopathic practice, not accepted medical evidence. Not FDA evaluated.