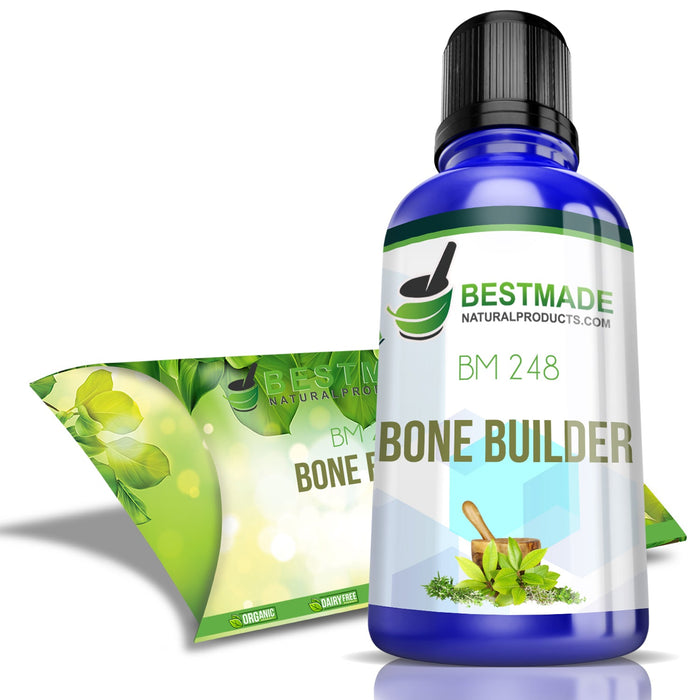 Natural Bone Health Supplement BM248, 30mL
Sale
Sale
Original price
$48.99
-
Original price
$48.99
Bone Health Supplement 
Use for Weak & Brittle Bone Disorder 
Promotes Bone Mass-
Easy To Drink - Worry Free Purchase

 


BETTER BONE HEALTH: Designed to help provide the necessary support for those with bone density issues. 
STRENGTHENS WEAK & BRITTLE BONES: Elevated formula designed to help those suffering from weak or brittle bones issues related to Osteoporosis. 
GET YOUR STRENGTH BACK: Natural formula designed to help strengthen bones and promote bone health. 
NO HASSLE USE: Just put ten drops into water & drink. Take it on the go!  Our effective formula is powered by nature to help make your bones feel stronger. 
QUALITY YOU CAN COUNT ON: Try our products! If you don't get the results you want we can help you find a formula that works for you Dedicated to meeting your health and wellness needs since 2007. Hassle-free customer service.
Natural & Proven Remedy for Osteoporosis
DO YOU SUFFER FROM OSTEOPOROSIS DISORDER?
Osteoporosis occurs when porous bones become weak & brittle. This can result in individuals with no symptoms as well as those with dull pains. These pains can be felt in bones and muscles. This can be particularly evident with low back or neck pain. As the disorder occurs, your bone mass can become thinner. This can lead to bone fractures, height loss, curving of the spine, back pain, and more. 
WHAT CAUSES OSTEOPOROSIS?
Bones are in a constant state of renewal. As you age, the renewal process becomes slower. Your bone mass becomes decreased over time. The likelihood to develop Osteoporosis is highly dependent on how much bone mass is attained during youth. This can be somewhat inherited and also can vary by ethnic group. Many other factors can lead to this issue including low dietary factors, hormone levels, medications consumed, medical conditions, lifestyle choices, & more.  
HAVE YOU BEEN DIAGNOSED WITH OSTEOPOROSIS? IF SO, WE HAVE THE PERFECT FORMULA:
At Bestmade, we want you to have strong bones! That's why we developed a special formula to help boost bone strength. Osteoporosis BM248 will help restore balance in your body. This will help you heal naturally and promote great bone health. Our natural remedy is non-drowsy & non-addictive. A safe & effective natural remedy that contains carefully selected ingredients. These have been formulated to help without any harmful side effects. It can be taken without concern of interfering with other medications. 
THE BESTMADE SOLUTION. EFFECTIVE, ALL NATURAL REMEDY
Are you looking for a natural remedy for Osteoporosis issues? Look no further. We have you covered with BM248 Osteoporosis by Bestmade. An elevated formula we specifically designed to help individuals with bone-related issues.
BM248 is Non-GMO, gluten-free, non-artificial flavor/color, and features no preservatives. Only the natural stuff you need. Best of all, there are no side effects! Whatsoever!
Just drink in water & you are good to go!
Yes! Just add 10-15 drops in an 8 oz. glass of water, 3-4 times per day. Comes with a 30mL bottle that lasts approximately 30 days. The bottle is easy & convenient to carry. Bring it anywhere you need to go! 
ACTIVE INGREDIENTS
Dysentery Co.D200 200C, CortisoneD200 200C, Mucor MucedoD200 200C, Calc PhosD200 200C, Crocus SatD200 200C, Cup MetD200 200C, Zinc MetD200 200C
NON ACTIVE INGREDIENTS
HOW TO USE THIS PRODUCT
Take 10-15 drops 3-4 times a day in 8 oz of water. If you weigh less than 100lbs use half a dose or take as prescribed.
PRODUCT INFORMATION
30mL approximately a 1 month supply when used as recommended
 
All of our products have a 100% Guarantee. If you are unhappy for any reason and we do not resolve it, We will refund 100% of the original Purchase price. Our goal is to help you, so we stand behind our products.

Our site provides information regarding health and wellness, it is not a substitute for professional medical advice. You should always consult with your doctor or health care provider regarding your health concerns, and read all directions and information on dietary supplements prior to use.

*Claims based on traditional homeopathic practice, not accepted medical evidence. Not FDA evaluated.
Additional Resources that Can Help You Optimize Your Health 
Click on the images for more info on related topics!