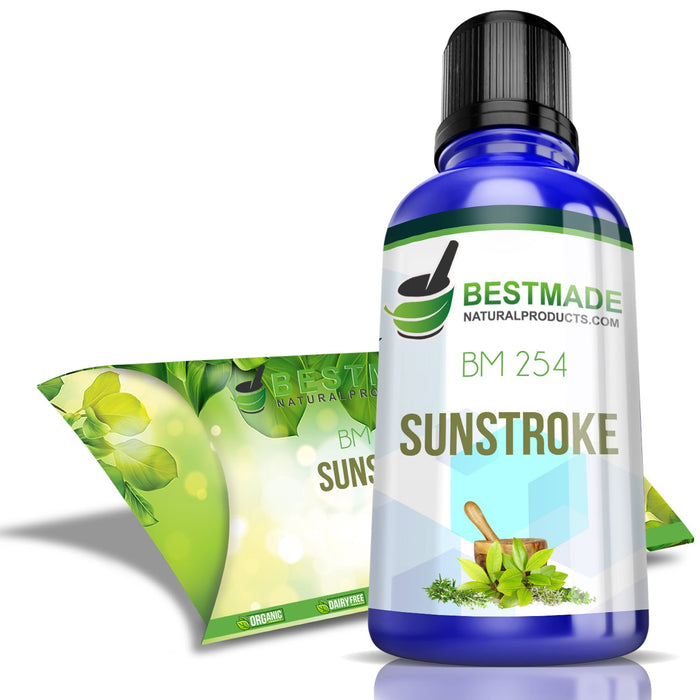 Sunstroke & Nausea Natural Remedy (BM254)
Sale
Sale
Original price
$48.99
-
Original price
$48.99
NATURAL SUNSTROKE SYMPTOM  SUPPORT
HELPS WITH NAUSEA VOMITING & HEADACHE PAIN
LESSENS FEELINGS OF FATIGUE
HELPS TO NORMALIZES BODY TEMPERATURE


WHAT IS SUNSTROKE? Sun stroke can be a life threatening condition in which the body's heat regulatory system fails due to exposure to high temperatures. Sunstroke symptoms includes heart palpitations, a high body temperature, dry skin, loss of consciousness, dizziness and headaches.
IS IT SERIOUS? Sun stroke is the most severe form of heat illness and can be a life threatening emergency. It is the result of long, extreme exposure to the sun, in which a person does not sweat enough to lower their body temperature. The elderly, persons who work outdoors and those on certain types of medications are most susceptible to heat stroke.
It is a condition that develops rapidly and requires immediate treatment. Although, each individual experiences different symptoms. Some common signs of heat  exhaustion may include headache, disorientation, agitation or confusion, fatigue, seizures, hot, dry skin, a high body temperature, loss of consciousness, rapid heart beat & hallucinations.
WHAT SHOULD I DO? To get sunstroke support you will need to cool down, move inside if possible and apply cool compresses. Make sure to keep yourself  hydrated. To speed up your recovery and get some symptom support use Sunstroke Natural Remedy.  (Please seek professional medicalcare  for severe heatstroke symptoms)


HOW TO USE THIS PRODUCT
Take 10-15 drops 3 to 4 times a day in 8oz of water. If you weigh less than 100lbs use half a does or take as prescribed by your healthcare provider.
ACTIVE INGREDIENTS
Apis MelD3 30C, BryoniaD3 30C, GelsemiumD3 30C, Nat MurD6 60C, PulsatillaD3 30C
NON ACTIVE INGREDIENTS


PRODUCT INFORMATION
30mL approximately a 1 month supply when used as recommended
All of our products have a 100% Guarantee. If you are unhappy for any reason and we do not resolve it, We will refund 100% of the original Purchase price. Our goal is to help you and we stand behind our products.
Our site provides information regarding health and wellness, it is not a substitute for professional medical advice. You should always consult with your doctor or health care provider regarding your health concerns, and read all directions and information on dietary supplements prior to use.

*Claims based on traditional homeopathic practice, not accepted medical evidence. Not FDA evaluated.
Additional Resources that Can Help You Optimize Your Health 
Click on the image for more info on related topics!