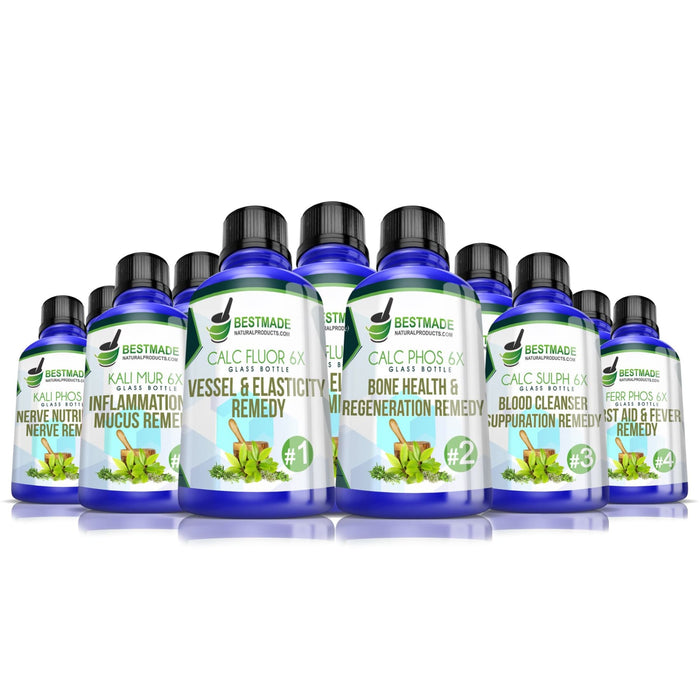 Classic Tissue Cell Salt Kit Natural Remedy
Sale
Sale
Original price
$135.00
-
Original price
$135.00
All 12 Schussler Cell Salts with Easy to Use Remedy Chart
Boost your Immune System
Stimulate Natural Healing
Provide Cellular Nutrition Vital to Cellular Function
CLASSIC TISSUE CELL SALT KIT Each bottle has over 550 pellets, not just 120
POTENT PRECISE DOSES mineral and mineral salts are mixed & crushed not diluted with water or alcohol.
INCLUDES FREE CONCISE CHEAT SHEET to explain common uses for each of the cell salts in the kit
TRANSFORM YOUR FAMILY'S HEALTH cell salts are safe for everyone and have no side effects
EASY TO DIGEST!  Just take the indicated number of pellets, for best results take with water; won't interact with other medications.
WE DO NOT DILUTE OUR PRODUCT WITH ALCOHOL OR WATER. Bestmade Cell Salts are manufactured to the highest standard possible.  All our mineral salts are prepared using the process of trituration meaning they are mixed and crushed.  This process is more expensive but it creates a product that is much more bio-available so you can achieve the maximum benefit as the nutrients are readily available for your body to use.  Simply dissolve the required number of pellets under your tongue and the mineral content will be absorbed and used by your cells.
GET THE NUTRIENTS YOUR BODY NEEDS Dr. Schuessler discovered that the body contains 12 minerals in the form of salts and that the cells in your body use these as vital nutritional elements.  They help the cell to function properly and take up the nutrients provided by the food you eat. Without these mineral salts your cells don't work like they should and your body doesn't get the nutrients it needs. This means you are more likely to get sick. With today's reliance on highly processed foods keeping a healthy balance of minerals in the body is a major challenge, but using cell salts can really improve your overall health.  They can boost your immunity and also address very specific health concerns like headaches, colds, the flu and upset stomach.
START GETTING HEALTHY NOW this kit contains everything you need to start on the road to a new and healthier you.  Use the included cheat sheet to help guide your decisions about what you should use and then simply follow the directions on the bottle.  This is not a substitute for a doctor's care it is an alternative health supplement that helps your body naturally heal itself.
EASY TO TAKE
These small pellets can be taken with water or can be chewed and swallowed, they have a mild sweet taste.
HOW TO USE THIS PRODUCT:
Take 3-5 tablets 3-4 times a day. If you weigh less 100lbs use half a dose or take as prescribed. ORDER YOUR KIT TODAY!
(see product insert for ingredients)
PRODUCT INFORMATION
25gm approximately a 1 month supply when used as recommended.
All of our products have a 100% Guarantee. If you are unhappy for any reason and we do not resolve it, We will refund 100% of the original Purchase price. Our goal is to help you, so we stand behind our products.
Our site provides information regarding health and wellness, it is not a substitute for professional medical advice. You should always consult with your doctor or health care provider regarding your health concerns, and read all directions and information on dietary supplements prior to use.

*Claims based on traditional homeopathic practice, not accepted medical evidence. Not FDA evaluated.
 CLICK IMAGE FOR MORE INFO ABOUT CELL SALT