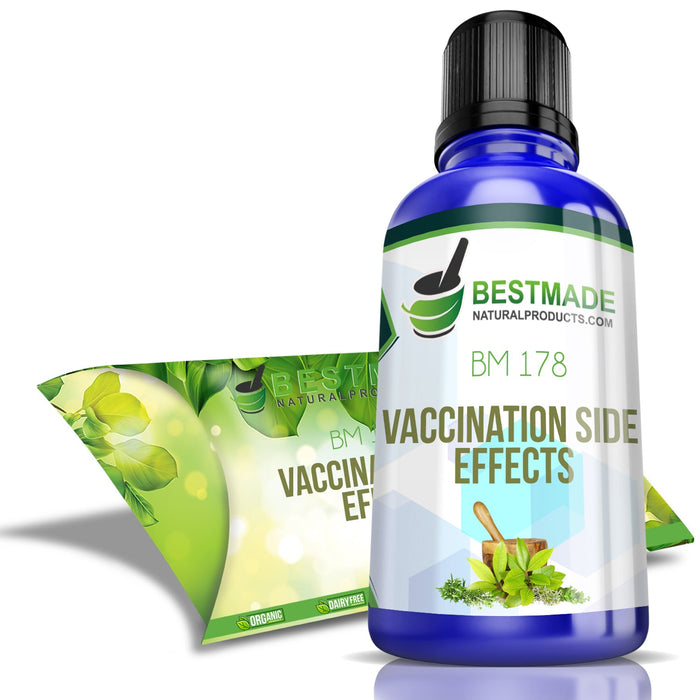 Vaccination Side Effects Natural Remedy (BM178)
Sale
Sale
Original price
$48.99
-
Original price
$48.99
VACCINATION SIDE EFFECTS


A mild allergic reaction may include fever, redness or swelling, and possible tenderness and soreness in the area where the injection was given. Other mild reactions include headache, loss of appetite, mild rash, tiredness, fussiness and vomiting. Some severe reactions might include high fever, seizures, coma, non-stop crying, hot and dry skin.
This compositum is very useful for all kinds of aggravations caused by various types of vaccinations. Some people react violently to vaccination, others less. However this special BM compositum helps immediately in setting the symptoms. Head pain as if pierced by the nails, left-sided headache. Complete loss of appetite. Dislike for fresh foods. Limbs feel heavy, cracking in the joints. Light-headed feeling. Skin tends to be copper coloured. Hair falls out. Pain in the chest. Children subject to colds, and croup. Flatulence, distension with indigestion. Frontal headache. Skin hot and dry. Nervous depression. Irritability along with the symptoms of fear and fever.


ACTIVE INGREDIENTS in VACCINATION SIDE EFFECTS REMEDY
ThujaD4 40C, Calcarea Iod.D12 100C, VaccinumD100 100C, AnthracinumD100 100C, Fever Serum NosodeD100 100C
NON ACTIVE INGREDIENTS
HOW TO USE THIS PRODUCT
Take 10-15 drops 3-4 times a day in 8 oz of water. If you weigh less than 100lbs use half a dose or take as prescribed.

PRODUCT INFORMATION
30mL approximately a 1 month supply when used as recommended
 
All of our products have a 100% Guarantee. If you are unhappy for any reason and we do not resolve it, We will refund 100% of the original Purchase price. Our goal is to help you and we stand behind our products.
Our site provides information regarding health and wellness, it is not a substitute for professional medical advice. You should always consult with your doctor or health care provider regarding your health concerns, and read all directions and information on dietary supplements prior to use.

*Claims based on traditional homeopathic practice, not accepted medical evidence. Not FDA evaluated.
Additional Resources that Can Help You Optimize Your Health 
Click on the images for more info on related topics!