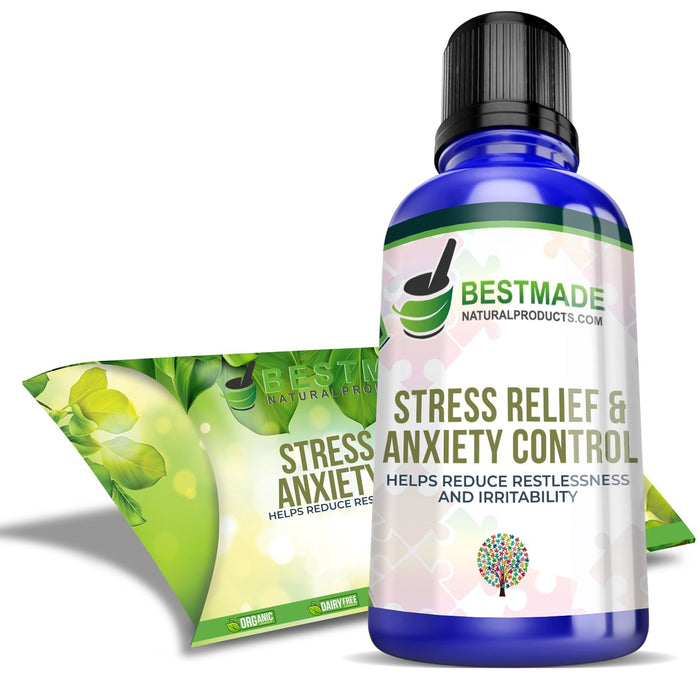 缓解压力和焦虑控制
Sale
Sale
Original price
$48.99
-
Original price
$48.99
All-Natural Supplement for Kids Teens & Adults on the Spectrum
Helps Reduce Restlessness & Irritability
Anti Anxiety formula for Nervousness & Panic Attacks
STRESS SUPPORT WITHOUT THE WORRY OF SIDE EFFECTS.   Autism support with active properties derived from nature, specifically designed to support  high levels of anxiety and stress that can interfere with the learning process and socialization.
MOOD SUPPORT reduces irritability, helping to lower stress levels and calm restless behavior which limits cortisol production in the body. High cortisol levels may be linked to anxiety and depression.
EXPERIENCE FEWER PANIC ATTACKS and an increased number of "good days" with this custom combination of plant-based calming properties that help improve your day to day life with their high support factor. 
JUST THE GOOD STUFF is all we put in our product, all-natural and highly effective supplements that are safe and easy to use.  No preservatives, toxic chemicals, gluten or artificial ingredients. Every single thing in the bottle is there because it supports your health and wellness.
RISK-FREE PURCHASE.  Try our effective anti-anxiety supplement if this product doesn't work for you, we can help you find a formula that does meet your needs.  All of our products come with a hassle-free 100% money-back guarantee.
WHAT FACTORS CAN TRIGGER ANXIETY FOR SOMEONE WITH ASD?
Everyday situations can be very stressful anything from coping with learning in the classroom to a situation with sensory issues like loud noises and large crowds.  Social situations and the challenges of daily routines may create anxiety or panic attacks, they might even be frightening to someone on the spectrum.
WHAT CAN YOU DO?
Many people on the spectrum take multiple medications, including anti-anxiety meds. These prescriptions come with a long list of side effects, including extreme lethargy. Whether your current treatment plan is not as effective as you would like or you simply want a more natural approach, we have the remedies that you need.
THE BESTMADE SOLUTION
Our exclusive blend of plant-powered active ingredients will help support tension and decrease irritability.  Lemon Balm, Lavender, and Passionflower combine their healing and soothing properties to help create better days with fewer panic attacks and emotional meltdowns.
This is not a magic bullet that ends all anxious behavior, it is a tool that you can use to improve your stress levels and help cope with the things that trigger your anxiety and fear.   You will see a gradual improvement after a few days, use consistently for maximum benefit.
Stress Support & Anxiety Control produces calming benefits for everyone with ASD, children and adults alike.  School, work and social situations don't have to be overwhelming.   Even a small improvement in stress levels can have a profound impact on behavior and quality of life for those living on the spectrum. 
Don't get stressed out about it, order some stress support today!
ACTIVE INGREDIENTS
Melissa Officinalis 7X, Lavandula- Augustifolia 1 OX, Passiflora Incarnata 4X

HOW TO USE THIS PRODUCT
Take 10-15 drops 3-4 times a day in 8 oz of water. If you weigh less than 100lbs use half a dose or take as prescribed.

PRODUCT INFORMATION
30mL approximately a 1 month supply when used as recommended

100% MONEY BACK GUARANTEE

Other Products you Might be Interested in...
All of our products have a 100% Guarantee. If you are unhappy for any reason and we do not resolve it, We will refund 100% of the original Purchase price. Our goal is to help you and we stand behind our products.
Our site provides information regarding health and wellness, it is not a substitute for professional medical advice. You should always consult with your doctor or health care provider regarding your health concerns, and read all directions and information on dietary supplements prior to use.

*Claims based on traditional homeopathic practice, not accepted medical evidence. Not FDA evaluated.
Additional Resources that Can Help You Optimize Your Health 
Click on the image for more info on related topics!