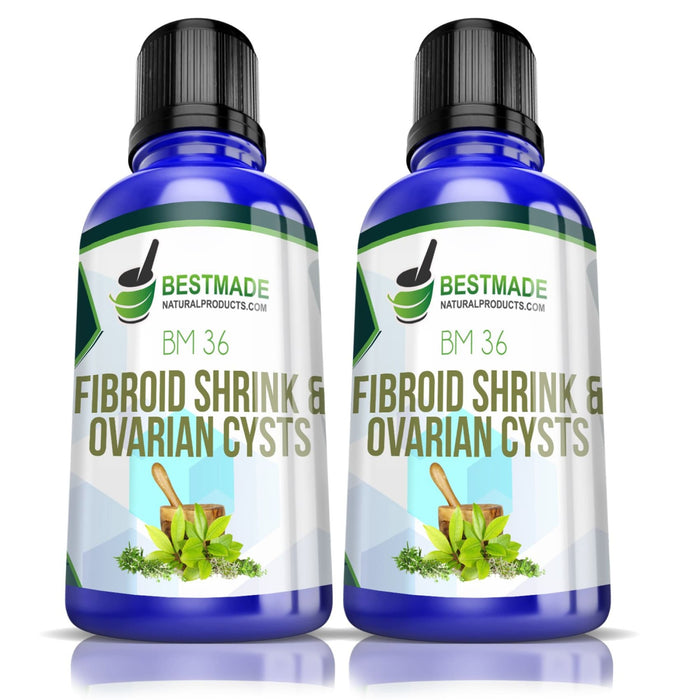 Double Pack Fibroid Shrink & Ovarian Cysts Remedy BM36
Sale
Sale
Original price
$78.99
-
Original price
$78.99
NATURALLY HELPS TO SHRINK FIBROIDS & OVARIAN CYSTS
NORMALIZES ESTROGEN LEVELS WHICH CAN HELP PREVENT REGROWTH
*SUPPORT MENSTRUAL PAIN & PAINFUL INTERCOURSE
HELP TO DISSOLVE & SHRINK your uterine fibroid or cyst with this all-natural support system
BALANCE YOUR HORMONES so your body works effectively to eliminate and prevent these unwanted growths
SUPPORT & REGULATE YOUR CYCLE decrease pelvic pain, bloating, heavy discharge and unwanted spotting
STOP PAINFUL when hormones are out of balance hurts to normalize estrogen levels to get support

NO SIDE EFFECTS OR INTERACTIONS a safe & gentle formula that can even be used with other treatments. Guaranteed Worry-Free Our products contain no preservatives, no chemicals, no side effects and will cause no drug interactions. All of our products have a 100% money-back guarantee.
ARE YOU TIRED OF THE PAIN CAUSED BY OVARIAN CYSTS AND FIBROIDS INTERFERING WITH YOUR PLANS?  Are you worried about costly and invasive surgery and treatment?  Experiencing troubles with fertility? Does stomach pain and bloating get in the way of life every time you have your period?  If your answer to any of these questions is yes, then keep reading because we have a great solution for you!
YOU CAN FIGHT THOSE STUBBORN FIBROIDS AND CYSTS NATURALLY.  Conventional treatments use hormones and other prescription medications, or a variety of surgical procedures to remove the growths. This can cost you time and money.  Instead, there is a potent natural remedy that is safe and successful in providing support to women of all ages.  You don't have to worry about scary side effects or visits to the hospital, it's simple you just take 10 to 15 drops in water 3-4 times a day or as prescribed by your health care provider.
WOMEN NEED THIS EFFECTIVE & VERSATILE PRODUCT TO MEET THEIR NEEDS.  This powerful combination of high-quality Non-GMO ingredients creates a proven product that can be used to decrease the severity of problems like discharge or bleeding.  Your pain and other symptoms created by ovarian cysts, fibroids, and your menstrual cycle can be reduced.All of our products are made in an FDA registered facility which ensures you receive a premium quality product that delivers the best possible results.  These formulas have proven to be safe and effective for over 50 years, with millions of remedies sold.
YOU CAN HAVE A HEALTHIER AND HAPPIER LIFE. Say goodbye to severe menstrual symptoms and take the pain out. Don't compromise or ignore your needs, you deserve to be pain-free.  Live your life to the fullest with our proven remedy to help you.  Remember, our products are totally safe and your 100% satisfaction is guaranteed.
HOW TO USE THIS PRODUCT
Take 10-15 drops 3-4 times a day in 8 oz of water. If you weigh less than 100lbs use half a dose or take as prescribed.
INGREDIENTS
Calcarea carb - is prepared from the middle calcium layer of the oyster. It is very effective for uterine fibroids, heavy menstrual flow and prolonged periods.

Calcarea fluorica - is Fluoride of Lime, a mineral. It is Useful for multiple fibroids and stony hard fibroids.

Cistus Can - Rock Rose is a type of flowering plant. It is useful for the emotional frustration of this condition.

Fraxinus - is a flowering plant called Ash. It is useful for fibroids and menstrual cramps.

Fucus ves - Bladder Wrack is a type of seaweed. It is useful for tumors and growths

Oophorinum - is an ovarian extract. It is useful for ovarian cysts, irregular cycle and pelvic pain

Secale cor - is Spurred Rye. It is useful for pain associated with fibroids and menstruation.

Thuja occ - is an evergreen coniferous tree, in the cypress family. It is useful for fibroids and excessive vaginal discharge.
PRODUCT INFORMATION
30mL approximately a 1 month supply when used as recommended
                               100% MONEY BACK GUARANTEE
Other Products you Might be Interested in...
All of our products have a 100% Guarantee. If you are unhappy for any reason and we do not resolve it, We will refund 100% of the original Purchase price. Our goal is to help you, so we stand behind our products.
Our site provides information regarding health and wellness, it is not a substitute for professional medical advice. You should always consult with your doctor or health care provider regarding your health concerns, and read all directions and information on dietary supplements prior to use.
*Claims based on traditional homeopathic practice, not accepted medical evidence. Not FDA evaluated.
YOU OWE IT TO YOURSELF TO TRY THIS PRODUCT! SCROLL UP, AND ORDER YOURS TODAY.
 CLICK IMAGE FOR MORE INFO ABOUT FIBROID SHRINKAGE