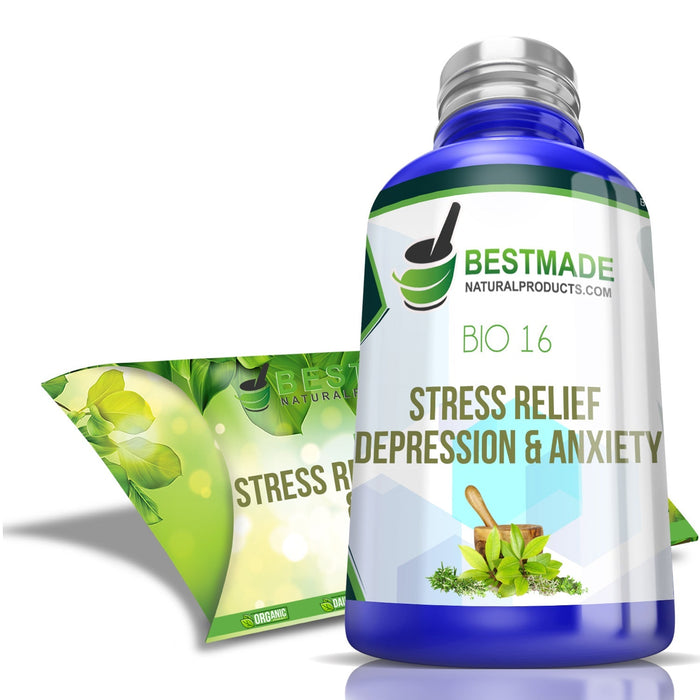 Stress Support, Depression & Anxiety Bio16
Sale
Sale
Original price
$37.99
-
Original price
$37.99
Effective Natural Stress Support, Anti-Anxiety Formula  
May Help Maintain Emotional Balance & Well being
 Use for Symptoms of Depression & Stress
Promotes Better Sleep 
Health Supplement for Men Women & Teens
It is recommended for nervous exhaustion, fatigue, or sleeplessness resulting from stress and anxiety. Natural support for your nervous system to help cope with everyday stress and negative events.
PROMOTES A CALM AND RELAXED MOOD may help maintain a positive outlook effective for teens & adults
SUPPORT FATIGUE Depression and stress can leave you tired and unmotivated improve your energy level
ANXIETY & DEPRESSION CAN LEAD TO VITAL NUTRIENT LOSS Restore lost nutrients and improve your mood
SAFE & EFFECTIVE can be taken alone or used along with your current treatment and medications
NO SIDE EFFECTS!  An easy to take formula that is 100% drug free and Non-habit forming
ARE YOU FINDING IT HARD TO CONCENTRATE AND COMPLETE YOUR DAILY TASKS?  Tired?  Having trouble sleeping?  Depression is a big word that describes a lot of little things you might be experiencing as a result of anxiety and being depressed. Hormones, life experiences and imbalances in your body all contribute to feelings of hopelessness, a sense of loss and even forgetfulness. You don't have to feel this way…
MINERAL POWER!  This potent combination of mineral based ingredients can have a quieting effect on your nervous system and allow you to function better and feel better.  May help to calm feelings of nervousness, anxiety and fear.  May gently soothe mood swings and eases feelings of self doubt.
DO THE SIDE EFFECTS OF SOME PRESCRIPTION DRUGS WORRY YOU?  The warnings on many prescription medications for anxiety and depression include upset stomach, fatigue, sexual problems and more. Do the unpleasant side effects sometimes make you stop taking your med's? Our supplements may aid your body support symptoms of stress and tension without causing additional problems. Please remember you should always let your doctor know if you have stopped taking your med's or are not using your medication as prescribed.
Taking your med's but still experiencing negative feelings or fatigue?  Add Stress Support Anxiety & Depression Bio16 formula to your daily routine to help yourself feel more balanced and energized. 
GET BACK YOUR INTEREST IN LIFE!  Depression is not your fault.  You deserve to feel better and enjoy life. We want to help you to help yourself. 
Take a step towards feeling better scroll up and place an order today
ACTIVE INGREDIENTS
(Calc Phos, Ferr Phos, Kali Phos, Mag Phos, Nat Mur)6x
 
HOW TO USE THIS PRODUCT:
Take 3-5 tablets 3-4 times a day. If you weigh less 100lbs use half a dose or take as prescribed.
PRODUCT INFORMATION
30mL approximately a 1 month supply when used as recommended
100% MONEY BACK GUARANTEE

Other Products you Might be Interested in...
All of our products have a 100% Guarantee. If you are unhappy for any reason and we do not resolve it, We will refund 100% of the original Purchase price. Our goal is to help you and we stand behind our products.
Our site provides information regarding health and wellness, it is not a substitute for professional medical advice. You should always consult with your doctor or health care provider regarding your health concerns, and read all directions and information on dietary supplements prior to use.

*Claims based on traditional homeopathic practice, not accepted medical evidence. Not FDA evaluated.
Additional Resources that Can Help You Optimize Your Health 
Click on the images for more info on related topics!