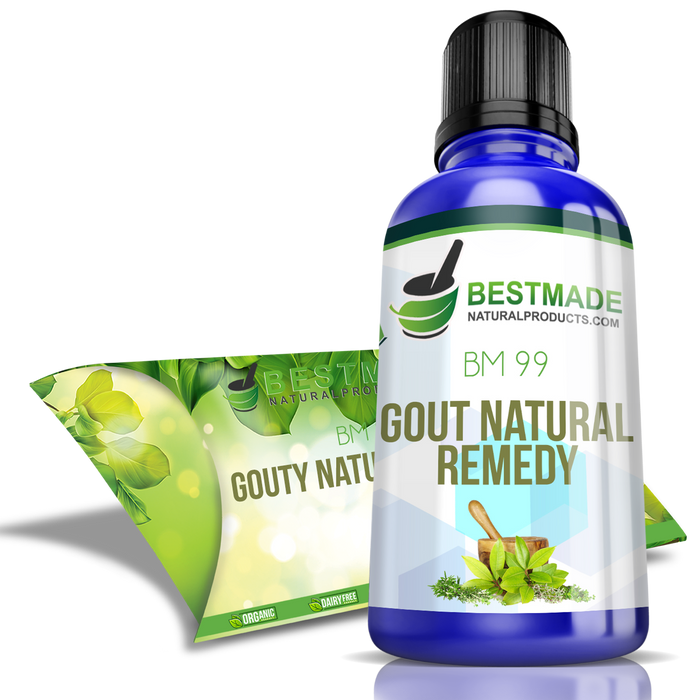 Gouty Arthritis Natural Remedy (BM99) 30ml
Sale
Sale
Original price
$48.99
-
Original price
$48.99
Helps with Gout Support
Use for Swollen & Painful Feet 
No Side Effects - Completely Safe Supplement
Simply Drink with Water  
☑️HELPS LESSEN GOUT SYMPTOMS: Helps support swelling in big toe.  Proven natural formula for gout related symptoms that include intense joint pain. 
☑️ DECREASE INFLAMMATION: Safe and effective remedy works to support pain by working to decrease elevated uric acid in blood. 
☑️ EASY TO USE: Just put ten drops into water & drink. Perfectly simple Gout pain support
☑️ WORRY FREE SUPPORT: Completely safe for all gout suffering family members with no interactions with other medications.
☑️ QUALITY YOU CAN COUNT ON:  Try our products! If you don't get the results you want we can help you find a formula that works for you. Dedicated to meeting your health and wellness needs since 2007. Stress free customer service.
Natural & Proven Support For Gout
GOUT IS A TERRIBLE INCONVENIENCE.
Gout is an intense joint pain that is normally seen in the big toe. It is the result of elevated serum uric acid in blood. This results in deposits of urate crystals in joints, subcutaneous tissue, bone, cartilage, and other tissues. It can really bring down your mood and overall well-being. Gout hampers your ability to move around on your feet. The results are debilitating to the mind and body.
Does this describe issues you're experiencing?
The first joint of the big toe is affected in nearly half of the first attacks of Gout. Within a few hours, the joint is painful, tender, and sensitive to touch. Other symptoms may also be present. This includes headaches, vomiting, and feverishness. The skin of the joint is usually red and dry. This results in malaise, discomfort, tender, and sensitive to touch joints. Tophi  (gout of the ear), can develop and pain may be in the area surrounding the affected joints. If the patient remains untreated, joint deformity may follow.  
THE MAIN REASONS FOR GOUT. WHAT CAN YOU DO TO HELP?
Gout is a common hereditary disorder. Generally it's extremely challenging to treat. We recommend a proper nutritional diet along with BestMade BM99 Gouty Arthritis. There is no need to suffer the discomfort of Gout. Our precise alternative remedies help to support your pain. The remedy is powered by nature. These natural healing properties make a potent, yet safe Gout support supplement. It will help you to feel better.  
THE BESTMADE SOLUTION. EFFECTIVE SUPPORT FOR GOUT
We offer the all-natural solution that's great for the whole family. It's so easy and simple. Just put a few drops into your water. Best of all…..No side effects!
BE GOOD TO GO! THE ONE YOU CAN TRUST
Have your Gout Natural Remedy on hand at home, work, vacation, or wherever! Our small size bottle is convenient and easy to use. 
With experience comes expertise. We've been selling these products in the USA for almost ten years and globally for over 50 years.
Trust Bestmade Gouty Arthritis BM99. The Bestmade Solution. Kiss your Gout goodbye!
USE FOR:
Intense joint pain, typically the big toe. Elevated serum uric acid level. Deposits of urate crystals in joints, subcutaneous tissue, bone, cartilage and other tissues.
ACTIVE INGREDIENTS
Arnica MontD4 40C, Rhus ToxD3 30C, Bryonia AlbD1 10C, Apis MellificaD1 10C, Ledum PalustreD4 40C, Lachesis MutusD17 100C, AesculusHip D3 30C
NON ACTIVE INGREDIENTS
HOW TO USE THIS PRODUCT
Take 10-15 drops 3-4 times a day in 8 oz of water. If you weigh less than 100lbs use half a dose or take as prescribed.
PRODUCT INFORMATION
30mL approximately a 1 month supply when used as recommended
Other Products you Might be Interested in...
 
All of our products have a 100% Guarantee. If you are unhappy for any reason and we do not resolve it, We will refund 100% of the original Purchase price. Our goal is to help you, so we stand behind our products.

Our site provides information regarding health and wellness, it is not a substitute for professional medical advice. You should always consult with your doctor or health care provider regarding your health concerns, and read all directions and information on dietary supplements prior to use.

*Claims based on traditional homeopathic practice, not accepted medical evidence. Not FDA evaluated.
Additional Resources that Can Help You Optimize Your Health 
Click on the images for more info on related topics!