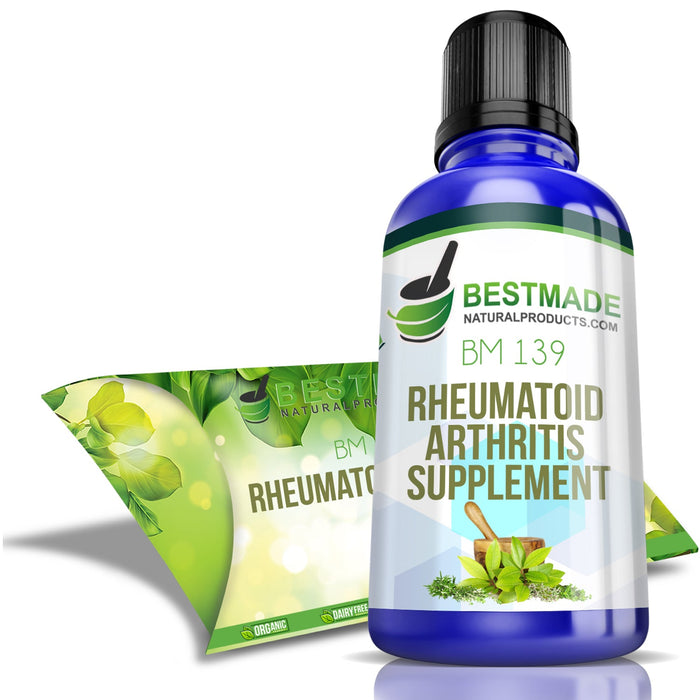 Rheumatoid Arthritis Supplement Natural Remedy (BM139)
Sale
Sale
Original price
$48.99
-
Original price
$48.99
RHEUMATOID ARTHRITIS


Rheumatoid factor is present in the blood. Affected joints feel tender, warm and swollen. Both sides of the body are affected at the same time. For example if one knee is affected the other one is also. Joints inflammation often affects wrist, finger joint, neck, shoulder, hips, elbows, knees and feet. The exact cause of rheumatoid arthritis is not yet known. It is known that immune system does not operate as it should. Different studies and scientists explain that although the cause of rheumatoid arthritis is not known but many factors contribute to the development of the rheumatoid arthritis.
Genetic or hereditary factors play a role in the immune system. Rheumatoid arthritis causes inflammation of the joints lining which leads to pain, swelling, stiffness and loss of function. It can also cause the inflammation of the tear glands, salivary glands, the lining of the heart and lungs and there are many other symptoms associated with rheumatoid arthritis such as joints feel tender, warm, and swollen. Both sides of the body are affected at the same time. This is also called a "symmetrical pattern" of inflammation. For example, if one knee is affected, the other one is also. Joint inflammation often affects the wrist and finger joints closest to the hand. 


ACTIVE INGREDIENTS
Arnica MontD6 60C, Bryonia AlbaD6 60C, ColchicumD4 40C, CausticumD3 30C, Rananculus BulbD10 100C, RhodendronD10 100C, Rhus ToxD4 40C
NON ACTIVE INGREDIENTS

HOW TO USE THIS PRODUCT
Take 10-15 drops 3-4 times a day in 8 oz of water. If you weigh less than 100lbs use half a dose or take as prescribed.
PRODUCT INFORMATION
30mL approximately a 1 month supply when used as recommended


All of our products have a 100% Guarantee. If you are unhappy for any reason and we do not resolve it, We will refund 100% of the original Purchase price. Our goal is to help you and we stand behind our products.
Our site provides information regarding health and wellness, it is not a substitute for professional medical advice. You should always consult with your doctor or health care provider regarding your health concerns, and read all directions and information on dietary supplements prior to use.

*Claims based on traditional homeopathic practice, not accepted medical evidence. Not FDA evaluated.
Additional Resources that Can Help You Optimize Your Health 
Click on the images for more info on related topics!