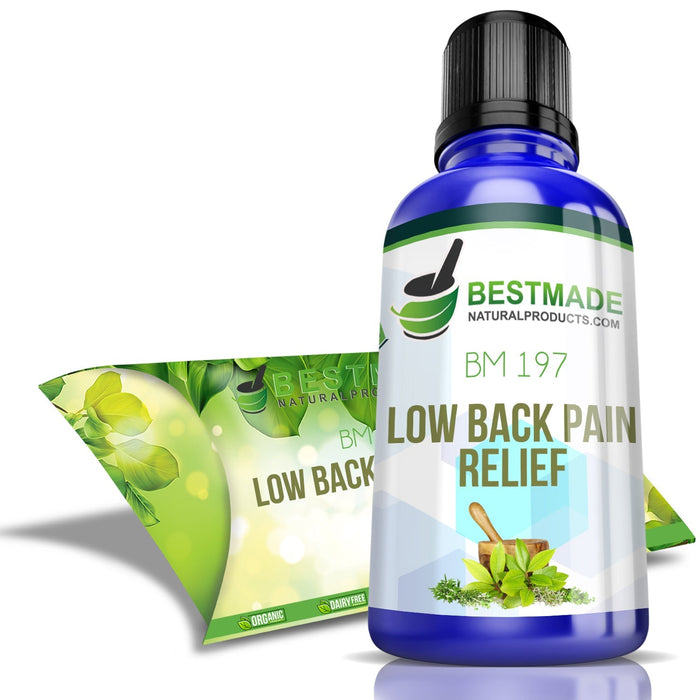 Low Back Pain Support & Muscle Soreness Remedy BM197
Sale
Sale
Original price
$48.99
-
Original price
$48.99
Natural Remedy for Low Back Pain
Supports Muscle Soreness & Tightness
Powerful Supplement for Low Back and Hip Pain
Use for Leg, Knee Pain & Related Sciatic Nerve Pain
Natural Support for chronic and occasional lower back pain, supports muscle tightness, spasms and inflammation so you can enjoy your day, and do the things you need to do.
Sciatica Supplement helps to ease the painful symptoms of low back into hip pain while gently providing support for sciatic nerve pain; improving your mobility and helping to reduce your pain level, naturally. 
Helps with Poor Circulation Eases leg cramps and shooting pains in the feet helps minimize the problem of cold feet and maximize your life enjoyment by promoting a pain-free lifestyle
Knee Pain Support for the associated joint pain that often comes with lower back problems. Proper posture and an improved gait are possible with a remedy designed specifically to meet your pain management needs. Our formula helps stop the pain so you can start moving properly again.
Worry-Free Pain Support No side effects or drug interactions from this all-natural remedy for lumbosacral pain
Is low back pain interfering with your job and life? Statistics show that 80% of adults have experienced lower back pain.  It is one of the most common causes of job-related disability and missed workdays. Your personal life can be interrupted and your relationships can suffer when you spend your days trying to cope with pain instead of life.
When the treatment is a problem what can you do? Think of a natural solution to support lower back pain and nerve pain from sciatica. Traditional pain medications and muscle relaxants have a long list of side effects, like upset stomach, nausea, tiredness and diarrhea to mention only a few. 
Get natural, gentle and effective support for low back and hip pain with our custom formula bm197.
Put some pain support in your cart today!
ACTIVE INGREDIENTS
Rhus toxD4 40C, BryoniaD4 40C, ColocynthisD4 40C, Arsenicum albumD7 70C, HypericumD6 60C, ChamomillaD6 60C, GnaphalliumD5 50C
NON ACTIVE INGREDIENTS
HOW TO USE THIS PRODUCT
Take 10-15 drops, 3-4 times a day in 8 oz of water. If you weigh less than  100lbs use half a dose or take as prescribed.
PRODUCT INFORMATION
30mL approximately a 1 month supply when used as recommended
                               100% MONEY BACK GUARANTEE
Other Products you Might be Interested in.
All of our products have a 100% Guarantee. If you are unhappy for any reason and we do not resolve it, We will refund 100% of the original Purchase price. Our goal is to help you, so we stand behind our products.

Our site provides information regarding health and wellness, it is not a substitute for professional medical advice. You should always consult with your doctor or health care provider regarding your health concerns, and read all directions and information on dietary supplements prior to use.

*Claims based on traditional homeopathic practice, not accepted medical evidence. Not FDA evaluated.
Additional Resources that Can Help You Optimize Your Health 
Click on the images for more info on related topics!