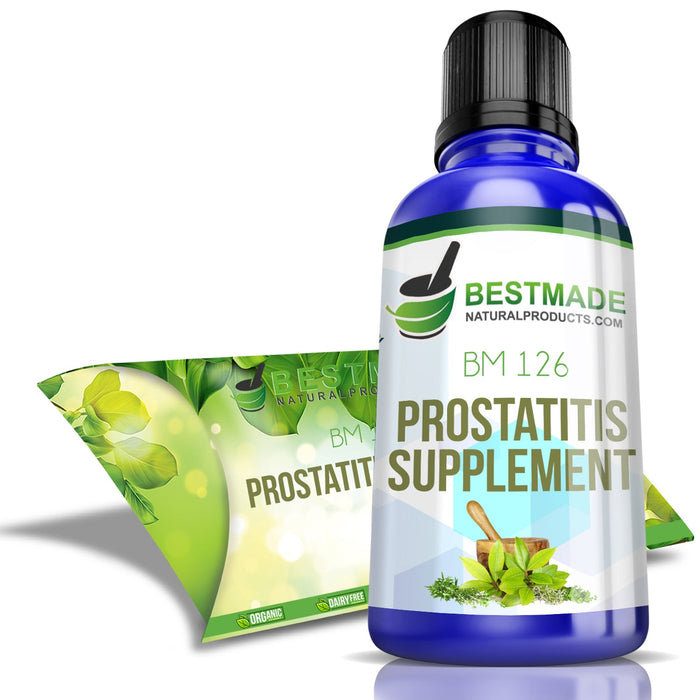 Prostatitis Natural Remedy & Supplement BM126
Sale
Sale
Original price
$48.99
-
Original price
$48.99
Natural Remedy for Prostatitis in Men - Improves Urinary Tract Health
Helps Stop Frequent Urination, Burning Sensation
Stream Difficulties & More 
Easy to Use Add to Drinking Water
SUPPORT FOR PROSTATITIS: Natural prostate health supplement that helps issues related to discomfort during urination.
SAFELY SUPPORTS FUNCTION: Effective formula with ingredients powered by nature a  potent combination to support the prostate gland and urinary tract health, & encourages normal immune function. 
EASY TO USE: Just put ten drops into water & drink. Helps stop frequent urination, burning sensation, dribbling, and more difficulties.
WORRY FREE SUPPORT Completely safe for all men suffering from symptoms related to Prostatitis.  Our formula has no issues when being used with other medications. 
QUALITY YOU CAN COUNT ON:  Try our products! If you don't get the results you want we can help you find a formula that works for you. Dedicated to meeting your health and wellness needs since 2007. All our products come with stress free customer service.
Natural & Proven Support For Prostatitis Issues
FREQUENT, PAINFUL, OR SUDDEN URINATION IS A REAL DOWNER. 
Prostatitis is an inflammation or infection of the prostate gland. It affects at least half of all men at some time in their lives. This typically occurs between the ages of 30 to 50 years. The condition is usually due to an infection spreading from elsewhere in the urinary tract. 
DOES THIS DESCRIBE YOU?
It can result in an acute attack typically beginning with chills and fever, lower abdominal discomfort, pain in the area between the genitals & the anus. 
Some men will experience the need to urinate frequently. Others are awakened during sleep with the sudden urge to pass urine. Some will have the feeling that the bladder has not fully emptied, or unable to completely empty. These symptoms are non-specific. Sometimes, the patient may experience no symptoms. Others experience symptoms so sudden and severe that the patient has to seek emergency advice.
THE BESTMADE SOLUTION. SAFE & EFFECTIVE SUPPORT FOR PROSTATITIS ISSUES.
BESTMADE BM 126 for prostatitis is a safe & non-addictive remedy. It is specifically formulated to support the healthy functioning of the prostate gland health and urinary tract in men. It also acts as an immune system tonic to encourage normal and efficient immune functioning. BM 126 supports symptoms like weakened urine flow, incomplete urination, urgency, and other ailments. This remedy helps support your symptoms without troublesome side effects.
BE GOOD TO GO! BESTMADE THE ONE YOU CAN TRUST
Have your Prostatitis Natural Remedy anytime you need it. Our small size is convenient and easy to use. Just mix with water and drink. We recommend 10-15 drops, 3-4 times per day in 8 oz of water for the average person weighing more than 100 lbs
With experience comes expertise. We've been selling these products in the USA for almost ten years and globally for over 50 years. 
Trust Bestmade Prostatitis Supplement. The Bestmade Solution!
Use for: Obstructive urinary tract infection including frequency, urgency, dysuria, nocturnal, hesitancy, and incomplete voiding.
ACTIVE INGREDIENTS
ChimaphillaD3 30C, Populus TremulD3 30C, PulsatillaD3 30C, Sabal SerrD2 20C, Pareira BravD2 20C, Thuja OccD7 70C, Nat OxalaceticumD100 100C
NON ACTIVE INGREDIENTS
HOW TO USE THIS PRODUCT:
Take 10-15 drops 3-4 times a day in 8 oz of water. If you weigh less than 100lbs use half a dose or take as prescribed.
PRODUCT INFORMATION
30mL approximately a 1 month supply when used as recommended
All of our products have a 100% Guarantee. If you are unhappy for any reason and we do not resolve it, We will refund 100% of the original Purchase price. Our goal is to help you, so we stand behind our products.
Our site provides information regarding health and wellness, it is not a substitute for professional medical advice. You should always consult with your doctor or health care provider regarding your health concerns, and read all directions and information on dietary supplements prior to use.

*Claims based on traditional homeopathic practice, not accepted medical evidence. Not FDA evaluated.
Additional Resources that Can Help You Optimize Your Health 
Click on the images for more info on related topics!