Stuffy Nose Relief & Rhinitis & Nasal Polyps BM100, Use for Sinus Pain, Congestion, Runny Nose Seasonal Allergies & to Reduce Inflammation that can cause Polyps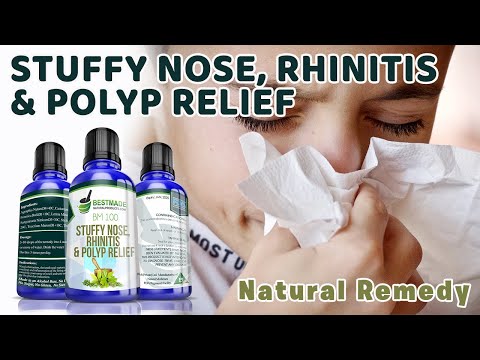 Stuffy Nose Relief and Rhinitis and Nasal Polyps Natural Remedy by Bestmade Natural Products - YouTube
[isdntekvideo]
Nasal Polyps are a very persistent and frustrating health/wellness issue.Your options for treatment include surgery, Corticosteroids, and other drugs.IF you're considering surgery, we ask you to try this product.
IF it works for you, then you've found a safe and natural way to manage your health.If any of our products doesn't get you the results that you had expected, we'll give you a full refund.
OUR BestMade, all-natural formula BM-100 for Nasal Polyps is surprisingly effective.
Even with long-standing nasal problems and issues like:Stuffy nose, deviated nasal septum, rhinitis, swelling and inflammation of the lining of the nose, sneezing, poor sense of smell and taste; and catarrh/congestion are the characteristic indications for this formula.
The cause of nasal polyps is not well understood, some believe that it result from allergy while others believe that it is caused by the sinus infection. Polyps block the nose. Large polyps create obstruction in the nasal breathing, forcing the individual to breath through mouth. Polyps also caused due to reduced sense of smell, rhinitis, swelling and inflammation of the lining of the nose. Polyps look like small grapes and can appear singly or in clusters in the nasal cavity. These polyps cause nasal blockage, runny nose, sneezing, poor sense of smell, taste, catarrh, headache, congestion in the fore-head and very occasionally bloody discharge from the nose.
Dosage:
Adult: 10-15drops, children half of the same, 3-4 times a day in some water or as prescribed by a Homoeopathic doctor.
Packing:
30ml drops standard quality packing
Composition:
Agraphis NutansD4 40C, CastoreumD4 40C, Formica RufaD1 10C, Lemna MinorD3 30C, Sanguinaria NitricumD3 30C, Sticta PulD2 20C, Teucrium MarumD1 10C, ThujaD3 30C
Some comments from our customers:
January 22, 2017Internet buyer
Didn't buy for myself but ordered for my husband.He's been suffering from sinus headaches and other problems for years. He's had surgeries twice and don't want to go through it again. Found this on line and it seems to help especially with the headaches. Have order second bottle and will see if it continue to help. Will up date later and let you know.Thanks
5.0 out of 5 starsIt works
ByAndrew Yon February 25, 2016
Verified Purchase
I suffer from nasal polyps for all my life. The bottom line is this: it works.
You can check my history. I am a real reviewer. When you look at the history of reviews from a lot of these people, they look like hired reviewers. They all review massive numbers of items per day. But I'm here to say, as a real purchaser, that this is not snake oil. If you're looking for a remedy and can overlook the steep price, it's worth considering.
5.0 out of 5 stars
By far, BM 100 is the best product that I have ever used that alleviates my rhinitis and nasal polyp symptoms.
Byjwildon January 9, 2016
Verified Purchase
For the last 20 years I have been suffering from rhinitis which includes stuffy nose and a lot of nasal congestion, difficulty breathing, blocked sinuses and nasal polyps. I always feel like I have a nose cold. I had Endoscopic Sinus Surgery in 2001; but shortly after the sinus surgery the polyps grew back and my rhinitis was worse than before the surgery. Over the past 20 years I have tried every medication, nose sprays, natural remedy approaches, and homeopathic remedies that were available with no success in alleviating my rhinitis and nasal polyps. I was amazed that after I put 10 drops of BM 100 in a glass of water and drank it; 20 minutes later my sinuses were clear, I could breath through my nose and I felt like I didn't have a nose cold. Today is day 2 of taking BM 100; my rhinitis symptoms are still alleviated and my nose feels normal for the first time in 20 years. BM 100 is a great product. My only concern is that BM 100 does not lose effectiveness in alleviating my rhinitis and nasal polyps over time. By far, BM 100 is the best product that I have ever used that alleviates my rhinitis and nasal polyp symptoms.
5.0 out of 5 stars
So far, so good.
Bywill c. settleon May 29, 2016
Verified Purchase
~I suffer from nasal polyps, right nostril completely block and occasional bleeding from the left.
Unable to smell anything and sense of taste lowered.~
So far, so good.
First of all, the estimated delivery date was may 30th.
I received it may 27th.
Secondly, I took doses, (5 - 10 drops 3x's a day) starting on the 28th.
Colorless, odorless and tasteless.
In the late morning of the 29th, I was able to barely get a tiny bit of air into my right nostril, (exhaling air not as bad, but zero inhaling) but I did not get my hopes up.
At this point in time (4:14pm may 29th 2016) I have about 50% clarity in my right nostril. I've never had this much clarity for two years. IF it is truly working, it works FAAAAAST.. I urge anyone with nasal problems, especially polyps to give a try, you to will be able to enjoy breathing again with your mouth closed.
Sense of taste is a little stronger, but smell is still a bit weak. I will edit my review at a later date with an update...
5.0 out of 5 stars
I absolutely love this product
ByH.Bradleyon April 18, 2016
Verified Purchase
I absolutely love this product. I get very stuffy at night and use antihistamines and nose spray almost nightly. Since I started using this product I no longer have to. I ran out and didn't get it reordered fast enough and my night time stuffiness came back. When I reordered I had a little problem with the delivery and the customer service was positively wonderful. I would recommend this company and this product to anyone.
5.0 out of 5 stars
Breathing again :)
ByAnnaon June 22, 2016
Verified Purchase
I have had pulyps for over five years , was so bad at times that I had panic attack from not breathing and I would have to use a nasal spray , at night every night no choice to use the nasal spray , it was bad , and surgery aren't that great cuz they come back worse , so one day I was researching and found this product with a bunch of amazing reviews , so I bought two bottles , I took ten drops in morning and 10 drops at evening , its just amazing after one Bottle I'm breathing again , took about two weeks to start seeing a difference , I bought two bottles telling myself I will try two and see , I'm going to continue the second bottle and will buy it again if my pulyps comes back , I am very happy to have my breathing back .
1.0 out of 5 stars
It does not work!!!! I took ...
ByFamilia Garcíaon November 10, 2016
Verified Purchase
It does not work!!!! I took it the way the label says for more than a month and no change.
5.0 out of 5 stars
Five Stars
ByMaria Wrighton March 5, 2016
Verified Purchase
Didn't work for me but customer service is great.
1.0 out of 5 stars
This product is trash, do not buy.
By amyon August 22, 2016
Verified Purchase
This Product did absolutely nothing for my nasal polyps! I used the whole bottle following the dosing recommendations. I want my money back.