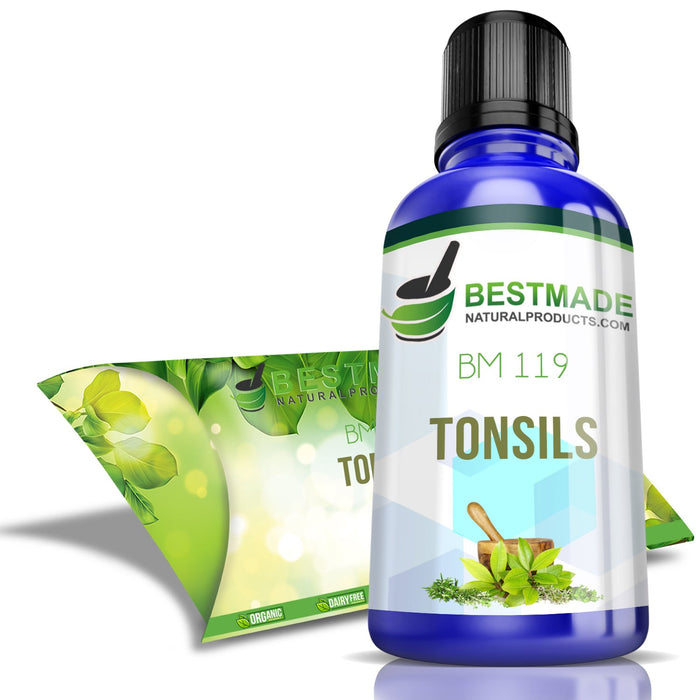 Natural Remedy for Tonsillitis (BM119) 30ml
Sale
Sale
Original price
$48.99
-
Original price
$48.99
TONSILLITIS 


Diseased tonsils. Parenchymatous tonsillitis, adenoiditis, swollen glands, headache, facial neuralgia & pharyngitis.
Enlarged gland, tonsils, adenoids, croup, headache, catarrh, sneezing, polyps, chill, fever and aching all over, glandular swelling, violent headache, facial neuralgia, cough. Hypertrophical condition of eustachian tubes and deafness. Burning in pharynx. Swollen tonsils. Follicular pharyngitis. Diphtheria and ulcerated sore throat, especially on left side with much glandular swallowing. Ulceration of mouth and throat, worse at night and damp weather. Constant desire to swallow, quinsy, soreness and burning in throat.


ACTIVE INGREDIENTS
Calcium IodD6 60C, Kali Iod.D6 60C, Arsenic Iod.D6 60C, Merc bin Iod.D12 100C, Merc viv.D6 60C
NON ACTIVE INGREDIENTS
HOW TO USE THIS PRODUCT
Take 10-15 drops 3-4 times a day in 8 oz of water. If you weigh less than 100lbs use half a dose or take as prescribed.
PRODUCT INFORMATION
30mL approximately a 1 month supply when used as recommended
100% MONEY BACK GUARANTEE
Other Products you Might be Interested in...
All of our products have a 100% Guarantee. If you are unhappy for any reason and we do not resolve it, We will refund 100% of the original Purchase price. Our goal is to help you, so we stand behind our products.
Our site provides information regarding health and wellness, it is not a substitute for professional medical advice. You should always consult with your doctor or health care provider regarding your health concerns, and read all directions and information on dietary supplements prior to use.

*Claims based on traditional homeopathic practice, not accepted medical evidence. Not FDA evaluated.
Additional Resources that Can Help You Optimize Your Health 
Click on the images for more info on related topics!