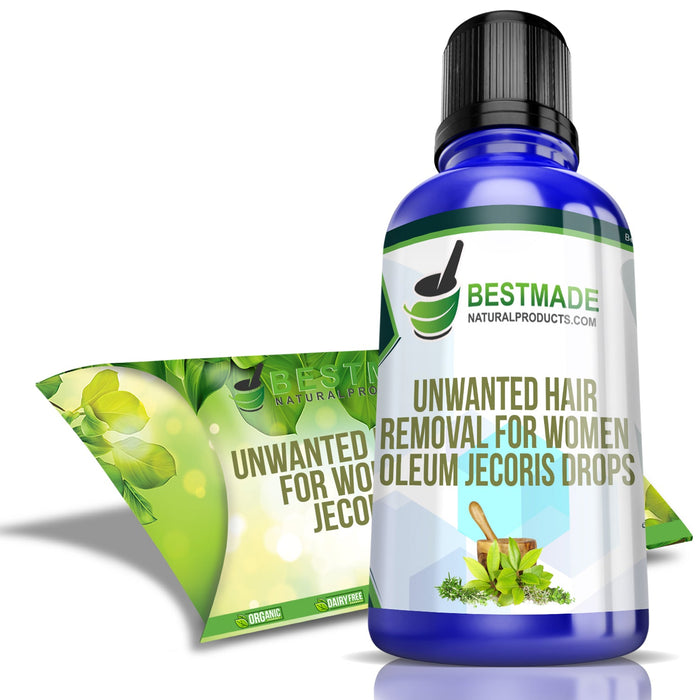 Unwanted Hair Removal For Women Oleum Jecoris Drops
Sale
Sale
Original price
$48.99
-
Original price
$48.99
Remedy for Unwanted Facial Hair Removal
A Natural Supplement Just for Women
Use to Stop Undesired Female Hair Growth & Hirsutism
Hair Growth Reducer Drops
☑️ Stop Unwanted Female Hair Growth: Helps reduce and prevent unwanted hair growth on the face, chest, & other body parts. This is a condition known as Hirsutism.
☑️ Safe & Effective Supplement: Special natural supplement helps your body reduce the amount of overproduction of male hormones (androgen). 
☑️ Drink With Water & Go: Drop in water, drink, and go. Repeat 3-4 times per day. Provides what you need to improve. 
☑️ 100% Trusted: Rest at ease. Completely safe for all female family members with no interactions with other medications. 
☑️ Quality You Can Count On: Try our products! If you don't get the results, you want to help you find a formula that works for you-dedicated to meeting your health and wellness needs since 2007—hassle-free customer service.
Oleum Jecoris Natural Supplement
Do You Suffer From Unwanted Female Facial Hair Growth?
Hirsutism is a condition in which too much hair grows on the face, chest, or other body parts. It's usually only a problem for women. This is mainly due to the excess production of male hormones (androgen). It's caused by excess androgen secretion or increased sensitivity of hair follicles. The specific cause is not identified. It tends to run in families. It does not necessarily indicate a hormonal imbalance.
Do You Have Unwanted Hair Growth? 
All women have a small amount of the male hormone, testosterone, circulating in their bodies. It's produced by the adrenal gland, which is situated over the kidneys. If the skin is extra sensitive to it, testosterone encourages hair growth on the upper lip, chin, chest, and lower abdomen. Women with this problem gradually develop more body hair from puberty until menopause. After menopause, body hair slowly lessens. However, facial hair continues to increase. If this is your situation, we can help.
If You Are Experiencing Oleum Jecoris, We can Help! 
Bestmade conducted a clinical trial on this particular condition. This led us to develop a special all-natural formula for patients with unwanted hair growth. At Bestmade, we want you to feel great and look your best! Our Oleum Jecoris Drops Remedy will help restore balance in your body. This will ultimately reduce unwanted hair growth. Our natural remedy is non-drowsy & non-addictive. It can be taken without concern of interfering with the effectiveness of other medications. 
The Bestmade Solution. Effective. All Natural Remedy.
Are you looking for a remedy to effectively treat unwanted hair growth?  Look no further. We have you covered with Unwanted Hair Removal for Women - Oleum Jecoris Drops by Bestmade. An effective natural formula for women!
Our drops are Non-GMO, gluten-free, non-artificial flavor/color, and feature no preservatives. Only the natural stuff you need. Best of all, there are no side effects! Whatsoever!
Just drink in water, & go!
Yes! Just drop 10-15 drops in 8oz of water and drink. Repeat 3-4 times a day. Comes with a 30 day supply.
The Risk-Free Purchase You Can Trust:
Bestmade has been selling these products in the USA for nearly ten years and globally for 50 years! We stand behind the quality and effectiveness of our products. 
Try an effective remedy. If this product doesn't work for you, we can help you find a formula that fits your needs. All of our products come with a hassle-free, 100% money-back guarantee.
Use For:
The condition known as Hirsutism (Excess Hair). This often occurs in females and results in unwanted facial hair on the face, chest, or other body parts.
Recommended Dosage:
Take 10-15 drops in 8 oz of water, 3-4 times a day. If you weigh less than 100lbs, use half a dose or take as prescribed. 
Product Information:
30mL, approximately a 30 days supply when used as recommended.
Ingredients:
Echinacea D4, Oleum Jeco D8, Thuja Occi D7
100% MONEY BACK GUARANTEE
Other Products you Might be Interested in...
All of our products have a 100% Guarantee. If you are unhappy for any reason and we do not resolve it, We will refund 100% of the original Purchase price. Our goal is to help you and we stand behind our products.
Our site provides information regarding health and wellness, it is not a substitute for professional medical advice. You should always consult with your doctor or health care provider regarding your health concerns, and read all directions and information on dietary supplements prior to use.

*Claims based on traditional homeopathic practice, not accepted medical evidence. Not FDA evaluated.
CLICK IMAGE FOR MORE INFO ABOUT HAIR LOSS