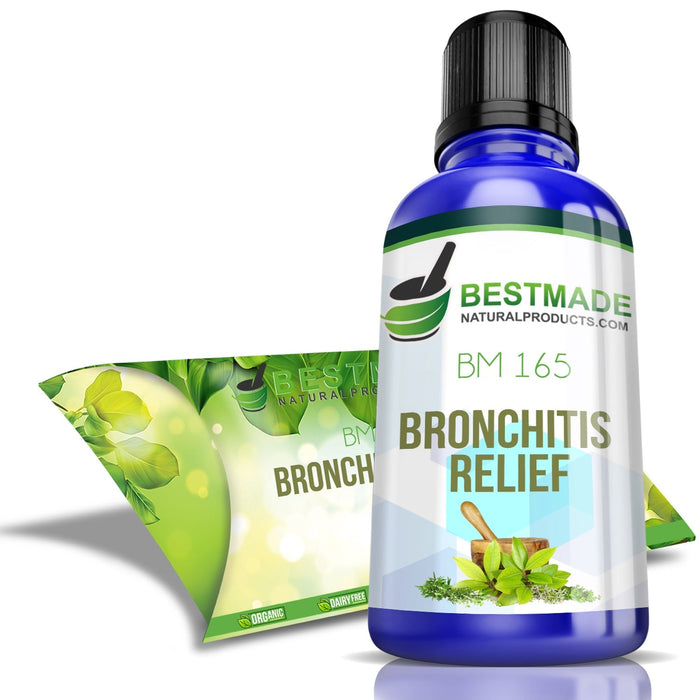 Bronchitis Support Natural Remedy (BM165)
Sale
Sale
Original price
$48.99
-
Original price
$48.99
BRONCHITIS


Inflammation of the bronchial tubes or bronchi. Inflammation may be caused by virus, bacteria, smoking or the inhalation of chemical pollutants or dust. Acute or chronic bronchitis. Bronchial wall inflammation can occur in asthma, shortness of breath, spasmodic contraction and much production of mucopurulent sputum, frequent attacks on bronchitis may lead to emphysema. Cold attacks, capillary bronchitis and bronchorrhoea.
Bronchitis is the inflammation of bronchi that is the two tubes into which trachea divides at its lower end. The first attack of bronchitis may be caused by viral or bacterial infection which inflames and enlarges the mucous membranes or lubricating glands of the bronchi and fill the air ways with mucous. The prominent symptoms are breathlessness, wheezing and continues coughing with phlegm. This is the stage of acute bronchitis and with the symptoms of fever, cough, spasmodic contraction and mucous production. In all the acute and chronic cases, patient has to pass through three stages. First is initial stage of bronchitis with the symptoms of infection or cold attacks, fever, dry hard deep cough, red hot face, red cheeks, red eyes, intense thirst, quick pulse and restlessness. Second stage is the bronchopneumonia with the symptoms of infection, cold runs down and settles in the chest with the involvement of bronchial capillaries. In chronic cases symptoms of breathlessness, sinuses,
ACTIVE INGREDIENTS
GrindeliaD7 70C, Angelica AtroD7 70C, Silphium LacD6 60C, Balsum PerØ 10C, Kali MurD6 60C, Kali BichD6 60C, Kali IodD6 60C, Barium MurD6 60C
NON ACTIVE INGREDIENTS
HOW TO USE THIS PRODUCT
Take 10-15 drops 3-4 times a day in 8 oz of water. If you weigh less than 100lbs use half a dose or take as prescribed.
PRODUCT INFORMATION
30mL approximately a 1 month supply when used as recommended
100% MONEY BACK GUARANTEE
Other Products you Might be Interested in...
All of our products have a 100% Guarantee. If you are unhappy for any reason and we do not resolve it, We will refund 100% of the original Purchase price. Our goal is to help you, so we stand behind our products.
Our site provides information regarding health and wellness, it is not a substitute for professional medical advice. You should always consult with your doctor or health care provider regarding your health concerns, and read all directions and information on dietary supplements prior to use.

*Claims based on traditional homeopathic practice, not accepted medical evidence. Not FDA evaluated.
Additional Resources that Can Help You Optimize Your Health 
Click on the images for more info on related topics!