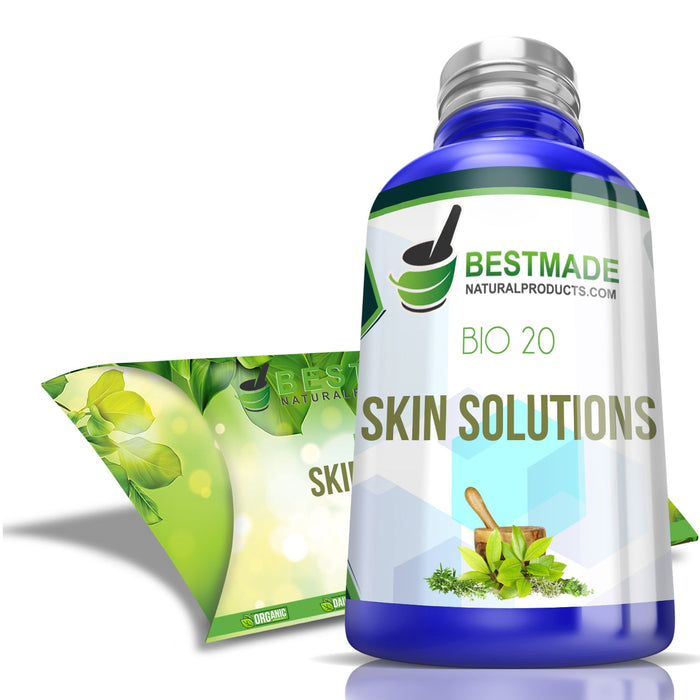 Dietary Supplement Hair Skin & Nails Solution Bio20
Sale
Sale
Original price
$38.99
-
Original price
$38.99
Dietary Supplement for Hair Skin & Nail
A Natural Eczema, Psoriasis & Acne Formula
Minerals for Clear Skin
Natural Anti Aging Properties
Plus Scar Treatment
Supports healthy cell regeneration and promotes the skin's youth, radiance, and healthy appearance. This combination of cell salts is useful for eczema, psoriasis, acne, pemphigus, and dandruff. It is also useful for visible scars, cradle caps, and neonatal dermatitis.
REVOLUTIONIZE YOUR SKINCARE Naturally boost immunity & stimulate the production of healthy skin cells for a radiant glowing complexion & younger-looking skin. Gorgeous skin starts from the inside with our exclusive Skin Solutions Mineral Supplement.
PROTECT & TREAT DRY SKIN Moisturize & soothe inflamed skin on the face & scalp without the sting & burn of creams or ointments. Powerful antioxidant and anti-inflammatory ingredients from nature may help protect skin from environmental pollution. May promote healthy hair growth.
CLEAR HEALTHY SKIN AT ANY AGE Effective support that is so safe it can even be used for cradle cap treatment and baby rashes. A perfect choice that may stop the stinging pain plus it may eliminate the signs and scars caused by dermatitis acne, eczema, rosacea & other skin irritations.
EASY TO USE A problem-free skin remedy to help repair damaged skin and speed up healing. It Will does not cause side effects or interactions with other medications, contains no preservatives or harsh chemicals. Just a few tiny pellets each day, swallow with water or grind and dissolve in drinking water.
This product is made with Lactose Sugar and the mineral salt ONLY. Other makers mix in regular sugar, and other chemicals to make the pellets dissolve faster. Bestmade pellets are not as sweet and don't dissolve quickly. Bestmade pellets are hard and you need to swallow them or crunch them. You are getting the PURE authentic remedy here.
FOR CLEAR SKIN AND RENEWED CONFIDENCE!
DO YOU HAVE PAINFUL BREAKOUTS AND RAW SKIN??
Are you tired of dealing with dry, scaly patches that not only itch and burn but are unpleasant to look at as well? Wouldn't it be great to find one effective product to rejuvenate your skin, ward off environmental damage and treat acne and other skin eruptions? If this product was also safe and gentle wouldn't it be the one it to try?
CLEAR SKIN CAN IMPROVE YOUR SELF ESTEEM TOO!
Don't let pimples, rashes and prematurely aging skin make you feel self-conscious. If your current treatment isn't working, or the side effects are just too awful get ready to try something new. You need to regenerate healthy skin cells and slough off damaged skin.
SKIN SOLUTION IS A NATURAL SUPPLEMENT TO REVITALIZE YOUR IMMUNE SYSTEM AND BOOST PRODUCTION OF HEALTHY SKIN CELLS.
Our proprietary blend of minerals may return elasticity to aging skin and tissues; used as part of your daily regimen it will rejuvenate your skin and return your youthful glow. It also mends slow-healing wounds and aids in the recovery of compromised immune systems which can cause eczema, psoriasis, dermatitis and acne. Skin Solutions Bio20 is safe for all ages, and can be used for Cradle Cap and neonatal dermatitis in infants. This preparation will not interact with other medications.
NOT CONVINCED THIS IS THE NATURAL SOLUTION FOR YOU?
These mineral salts also have a beneficial effect on respiration by supporting the blood carry oxygen to all cells, further supporting healthy skin.
ACTIVE INGREDIENTS IN HAIR SKIN & NAIL SOLUTION
(Calc Fluor, Calc Sulf, Kali Sulf, Nat Mur, Nat Sulf)6x
HOW TO USE THIS PRODUCT:
Take 3-5 tablets 3-4 times a day. If you weigh less 100lbs use half a dose or take as prescribed.
PRODUCT INFORMATION
25gm approximately a 1 month supply when used as recommended.
      DON'T HESITATE TO SCROLL UP AND ORDER YOURS TODAY!
100% MONEY BACK GUARANTEE
Other Products you Might be Interested in...
All of our products have a 100% Guarantee. If you are unhappy for any reason and we do not resolve it, We will refund 100% of the original Purchase price. Our goal is to help you, so we stand behind our products.
Our site provides information regarding health and wellness, it is not a substitute for professional medical advice. You should always consult with your doctor or health care provider regarding your health concerns, and read all directions and information on dietary supplements prior to use.

*Claims based on traditional homeopathic practice, not accepted medical evidence. Not FDA evaluated.
Additional Resources that Can Help You Optimize Your Health 
Click on the images for more info on related topics!