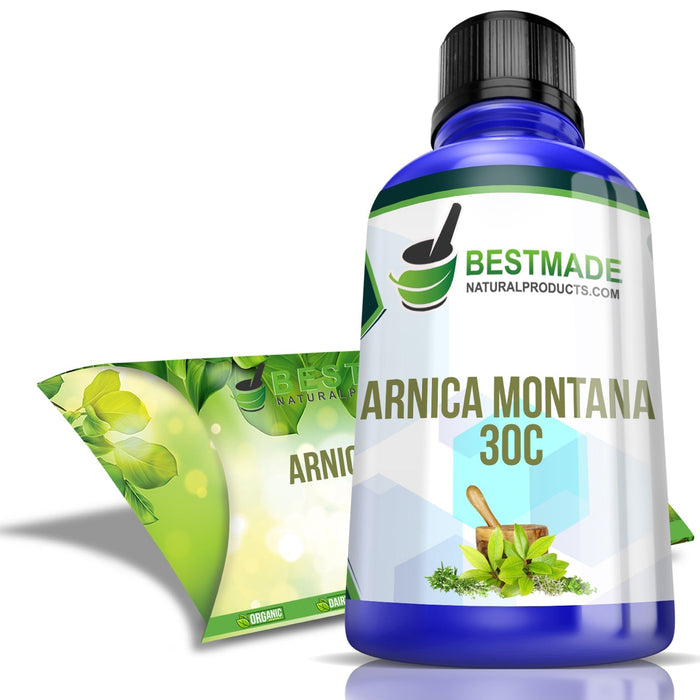 Arnica Montana 30c, Natural Pain Support for Muscle Soreness, Overexertion or Injury
Sale
Sale
Original price
$42.99
-
Original price
$42.99
Natural Pain Support for Shoulder, Neck & Back Pain,
Effective Remedy for Bruising & Muscle Soreness from
Overexertion or Injury,
Use for Strains, Sprains & Swelling
EFFECTIVE NATURAL PAIN SUPPORT Arnica Montana 30c is twice the strength of 30x for maximum support. 
                                                  
COST EFFECTIVE one bottle contains more doses than 3 tubes of similar products.
NO SIDE EFFECTS OR INTERACTIONS-No drowsiness or upset stomachs, safe to take with other treatments
GENTLE & SAFE for almost everyone to use, even small children and pregnant or breastfeeding women.
MONEY BACK GUARANTEE if you are not satisfied with our product we will give you a 100% refund
Gardening, working out and daily life can be hard on your body.  Arnica can make keeping up with life's demands easier. This remedy provides fast acting support for your aches and pains.  No large pills to swallow, just a few tiny pellets to be chewed or taken with water to provide your body with the naturally effective ingredients it needs to deal with the discomfort caused by trauma, injury and overwork.    
These pellets will not make you drowsy and you don't have to worry about them interacting with your current medications.   Some common pain killers can upset your stomach and cause constipation, but our product has no negative side effects and can be combined with other treatment plans.  
                                                                                                                       Arnica Montana is from the Mountain Daisy which has powerful antioxidants and essential elements to help you heal and to reduce inflammation; it has a long history of being used for effective, natural pain support. Professional athletes use it to soothe their sore muscles and some plastic surgeons swear by it for reducing bruising and post-procedure discomfort after cosmetic surgery.
You can provide completely safe support for ALL your family members; including children and women who are pregnant or breastfeeding.  Playgrounds, bike parks and tree climbing can give your child lots of bumps and bruises; so Moms will appreciate this effective treatment. Anyone that bruises easily will be pleased to see how well Arnica reduces the appearance and discomfort caused by bruising.      
Fast acting, no side effects and useful for various types of pain occurring all over the body this potent remedy is one that you should have in your medicine cabinet!
INGREDIENTS
Arnica 30c in a lactose based tablet
HOW TO USE THIS PRODUCT:
Take 3-5 tablets 3-4 times a day. If you weigh less 100lbs use half a dose or take as prescribed. Order yours today!
PRODUCT INFORMATION
25gm approximately a 1 month supply when used as recommended.
                                  100% MONEY BACK GUARANTEE
Other Products you Might be Interested in...  
All of our products have a 100% Guarantee. If you are unhappy for any reason and we do not resolve it, We will refund 100% of the original Purchase price. Our goal is to help you, so we stand behind our products.
Our site provides information regarding health and wellness, it is not a substitute for professional medical advice. You should always consult with your doctor or health care provider regarding your health concerns, and read all directions and information on dietary supplements prior to use.

*Claims based on traditional homeopathic practice, not accepted medical evidence. Not FDA evaluated.
CLICK IMAGE FOR MORE INFO ABOUT PAIN SUPPORT