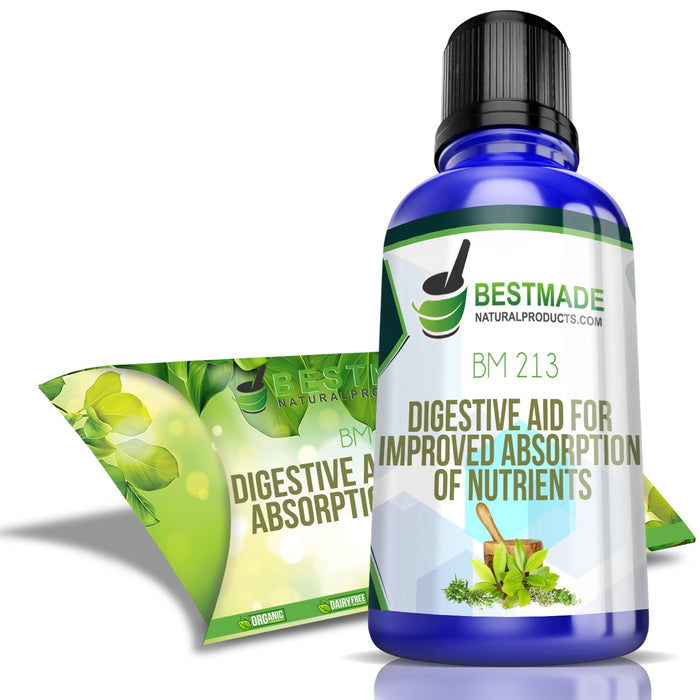 All Natural Digestive Aid for Improved Absorption of Nutrients BM213
Sale
Sale
Original price
$48.99
-
Original price
$48.99
A Natural Digestive Aid
 With Micro Doses of Plant & Mineral Extracts
Designed to Improve Nutrient Absorption 
Offers Support from Digestive Problems &  Bowel Support
WHAT IS MALABSORPTION OF NUTRIENTS?
It means that one or more essential nutrients or minerals is not properly digested and absorbed by your body.  While the explanation is simple enough trying to deal with the diverse and unpleasant set of symptoms it causes can be much more complicated.
SYMPTOMS, SYMPTOMS AND MORE SYMPTOMS 
Even in the healthiest people the digestive system can become disorientated and can lead to problems of nutrient deficiency because your body is not getting the vital nutrients it needs.
If you are eating well but your body is not digesting or absorbing all the nutrition,  it is going to let you know that something is wrong.
The above symptoms are very important,  but the basic problem should be investigated by your natural healthcare provider.
GET THE DIGESTIVE  ADVANTAGE
This remedy can help support the symptoms of digestive problems which may be the result of an allergy to a food that was eaten, medication, illness, infection, even a parasite or slight food poisoning. 
This completely natural,  effective, and safe remedy can help you feel better and help your body digest and use the food you eat.
ACTIVE INGREDIENTS
GraphitesD6 60C, Rhus ToxD6 60C, Natrum SulphD3 30C, Carbo VegD10 100C, Nat PhosD7 70C 
NON ACTIVE INGREDIENTS
HOW TO USE THIS PRODUCT
Take 10-15 drops 3-4 times a day in 8 oz of water. If you weigh less than 100lbs use half a dose or take as prescribed.
PRODUCT INFORMATION
30mL approximately a 1 month supply when used as recommended
100% MONEY BACK GUARANTEE
Other Products you Might be Interested in...
All of our products have a 100% Guarantee. If you are unhappy for any reason and we do not resolve it, We will refund 100% of the original Purchase price. Our goal is to help you, so we stand behind our products.
Our site provides information regarding health and wellness, it is not a substitute for professional medical advice. You should always consult with your doctor or health care provider regarding your health concerns, and read all directions and information on dietary supplements prior to use.

*Claims based on traditional homeopathic practice, not accepted medical evidence. Not FDA evaluated.
Additional Resources that Can Help You Optimize Your Health 
Click on the images for more info on related topics!