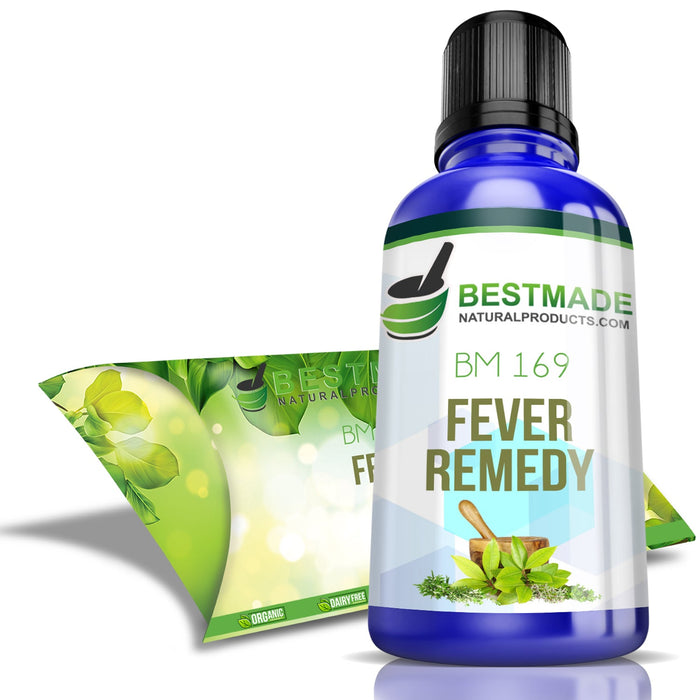 Natural Remedy for Fever & Muscular Pain (BM169)
Sale
Sale
Original price
$48.99
-
Original price
$48.99
FEVER


Fever is often a sign of infection or illness. The specific symptoms of fever may vary but these includes muscular pain, backache, headache, shivers, loss of appetite, nausea and vomiting and slow pulse. If fever reappears after the acute phase then it affects the several body systems with the symptoms of severe body pains, burning syndromes, abdominal pain, sore nose and mouth.
Although it is believed that fever helps the body to fight infections by stimulating natural defensive mechanism. Fever is a sign of infection which makes the sufferer uncomfortable and dehydrated. The first acute phase of the fever normally indicates the symptoms of raised body temperature, muscle pain, prominent backache, headache, shivering and hot sweats, loss of appetite, nausea and vomiting. In case the fever reappears in the second phase then it may affects several body systems with the different kind of complaints like abdominal pain, deviated liver and renal profiles, coated tongue, soreness of throat nose and eyes.


ACTIVE INGREDIENTS
IpecacD7 70C, BryoniaD6 60C, Rhus ToxD3 30C, BaptisiaD1 10C, Arnica MontD2 20C, GelsemiumD6 60C, Eupatorium PerfD3 30C
NON ACTIVE INGREDIENTS
HOW TO USE THIS PRODUCT
Take 10-15 drops 3-4 times a day in 8 oz of water. If you weigh less than 100lbs use half a dose or take as prescribed.
PRODUCT INFORMATION
30mL approximately a 1 month supply when used as recommended
100% MONEY BACK GUARANTEE
Other Products you Might be Interested in...
All of our products have a 100% Guarantee. If you are unhappy for any reason and we do not resolve it, We will refund 100% of the original Purchase price. Our goal is to help you, so we stand behind our products.

Our site provides information regarding health and wellness, it is not a substitute for professional medical advice. You should always consult with your doctor or health care provider regarding your health concerns, and read all directions and information on dietary supplements prior to use.

*Claims based on traditional homeopathic practice, not accepted medical evidence. Not FDA evaluated. 
Additional Resources that Can Help You Optimize Your Health 
Click on the images for more info on related topics!